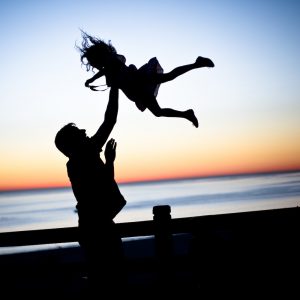 The following is a devotion from my message series 10 Steps to Freedom. I hope these devotionals help you experience lasting freedom in Jesus!
STEP THREE: day 4
Cultivate a relationship with your Heavenly Father
What does it look like on a practical level to cultivate a relationship with your Heavenly Father? More than just spending more time with him, truly embracing this step to freedom is beginning to see God as your loving, Heavenly Father. Here is an easy way to remember God as FATHER:
F – For me. Your Heavenly Father is for you, not against you (Romans 8:31). God doesn't love you because you're good. He loves you simply because you're His.
A – Almighty. Your God can do anything, just like a young child naturally assumes their father can do anything. No matter how big your problems are, your Father is bigger!
T – Tender. Even the manliest man will melt like ice cream when holding his newborn infant for the first time. God is both almighty and tender, loving, and caring towards you.
H – Home. There's no place like home. You don't have to pretend, you can relax and be yourself. It's the same with your Heavenly Father. You can be yourself with Him, because with your Father you are home (John 14:23).
E – Enough. When you're a young child, more than any gift he can give you, you just want your father. We don't spend time with God just to get His blessings. We want Him.
R – Rejoicing. If there was a fridge in heaven your drawings would be on them. God wears the angels out bragging on you all the time. Your Heavenly Father rejoices over you!
QUESTIONS FOR REFLECTION
1. Of the six words that spell out FATHER, which one seems the most foreign to you? Which one do you need to experience the most in your life right now?
2. Your Heavenly Father rejoices over you. Write down one or two things He might be rejoicing with you over right now? (Hint: maybe that you're walking through this book and beginning to experience true freedom!)
You can read other devotional entries for 10 Steps to Freedom here.