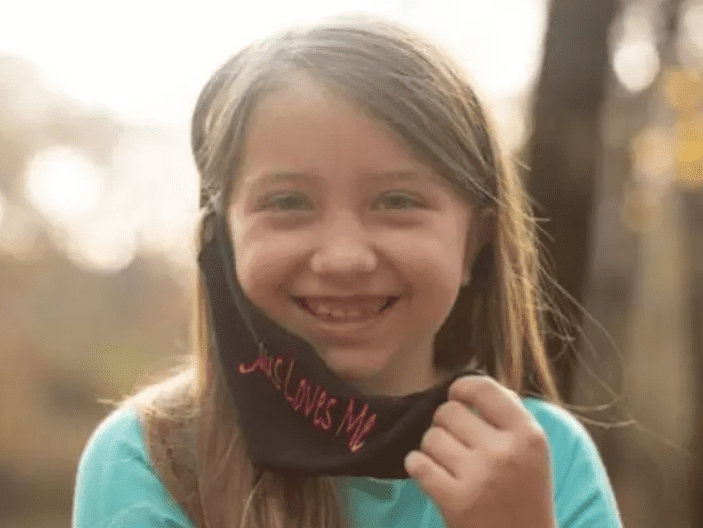 A Mississippi school district has agreed to change a policy banning political or religious speech that led to a third-grade student being barred from wearing a face mask with the message "Jesus Loves Me."
During the coronavirus pandemic, the Simpson County School District prohibited elementary school student Lydia Booth from wearing the face mask because of its Christian message.
Alliance Defending Freedom, a legal nonprofit specializing in religious freedom cases representing Booth, announced the school district had reversed its decision. The district will now allow the child to wear her "Jesus Loves Me" face mask as part of a settlement agreement ending a federal lawsuit.
"No student should be singled out for peacefully expressing her religious beliefs," said ADF Senior Counsel Tyson Langhofer, director of the ADF Center for Academic Freedom. Today's students will be tomorrow's legislators, judges, educators and voters. That's why it's so important that public schools demonstrate the First Amendment values they are supposed to be teaching to students."
In November 2020, the ADF filed the lawsuit on behalf of the Booth family in the United States District Court for the Southern District of Mississippi.
The litigation stemmed from an incident on Oct. 13, 2020, in which school officials told the then-third-grade student that she was not allowed to wear a face mask with the statement "Jesus Loves Me" because the school system prohibited face masks that had religious or political messages on them.
"Defendants allow students at SCS to wear masks and other clothing with a wide variety of expressive messages during school, including 'Black Lives Matter' and masks and shirts promoting many sports teams," read the suit.
"Defendants' Religious Speech Policy and practice are overbroad because they sweep within their ambit protected First Amendment expression."
For his part, Simpson County Schools Superintendent Greg Paes sent a letter to families and staff shortly after the incident, assuring them that the school district "does not discriminate based on race, color, national origin, sex, religion, disability, marital status or age in admission or access to, or treatment of employment in, its programs or activities."
"Masks cannot display political, religious, sexual or any inappropriate symbols, gestures or statements that may be offensive, disruptive or deemed distractive to the school environment," wrote Paes at the time.
"This expectation was outlined in our restart plan and is specific to masks only. The principal and Superintendent will be the final authority on the appropriateness of any mask worn to school. Wearing school colors, the school mascot, or simply having a blank mask is encouraged."