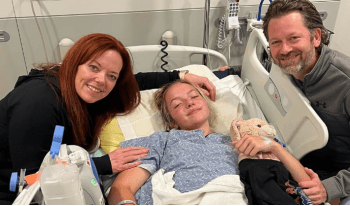 17-year-old Addison Bethea had her world turned upside down in late June when she was bitten by a shark while searching for scallops near Keaton Beach, Florida. Addison is a cheerleader and a tennis player. And she's also relatively young to experience an accident and crisis of this magnitude. However, Miss Addison Bethea has a positive attitude and great faith and will recover.
A native of Florida, Addison knew that if attacked by a shark, her best defense was to punch the fish in the nose. She explained to CNN that she couldn't quite accomplish that. But she hit it in the face and poked at its eyes in an attempt to escape.
Addison's brother, Rhett Willingham, swam nearby when he heard his sister in distress. He quickly came to Addison's aide, getting the shark off of her, putting her into a boat that had come upon the situation, and wrapping her bleeding leg in a tourniquet. Addison was airlifted to a hospital, but the care she received from Rhett, who is a firefighter and EMT, might very well have saved her life.
Of her brother, Addison said, "He's always been kind of like a hero to me. I knew once I was in trouble, he said he would get me out. He promised. So I expected nothing less." That's a wonderful brother-sister relationship!
Addison's injuries to her upper right leg were severe, resulting in the loss of her four quadricep muscles. Doctors determined that the best course of action was to amputate Addison's leg just above her knee and use muscles from the lower part of her leg to repair and restore the use of the remaining upper leg.
Thankfully, surgery was successful, and Addison is recovering well. She has relied on her sense of humor and faith to get her through the initial hurdles, and she will continue to do so throughout the extensive rehabilitation.
Michelle Murphy, Addison's mother, said, "God blessed us by allowing Addison to live, and we will never lose focus on that gift." Addison's healing journey has been shared on Facebook, and a GoFundMe page has been established for those wishing to help the family with Addison's medical expenses.
This Florida teen is a fighter, facing this challenge with grit and grace. Something tells us that Miss Addison Bethea will be doing many brave things during her life, and we can't wait for the world to see what they are.
It must be frightening to face off with a shark, not knowing the outcome. Luckily, Addison knew how to fight off the shark and had her brother there to protect her. His mind must have started racing when he heard Addison's cries for help, and his brotherly instincts kicked in. It's also good to know that while Addison lost part of her leg, she still has the fighting spirit to get her through this challenge. It's also good to see that she has a loving family that will support her with whatever she needs.