Former Vice President Mike Pence says in a new book that shortly after the events of Jan. 6, 2021, he told then-President Donald Trump that he would be praying for him. The conversation took place eight days after protesters attacked the capitol during the certification of the electoral votes, some of them chanting, "hang Mike Pence."
Trump had urged Pence to reject the electoral votes from several states won by Joe Biden; Pence had said he had no such authority under the U.S. Constitution. "On Jan. 14, the day after President Trump was impeached for the second time, I stopped by the Oval Office," Pence writes in his new book, So Help Me God, which will be released Nov. 15. The Wall Street Journal published an excerpt.
"The night before, he had unequivocally denounced the violence at the Capitol and called for calm and national unity. I congratulated him on his address. 'I knew you'd like it,' he said. He seemed discouraged, so I reminded him that I was praying for him. 'Don't bother,' he said. As I stood to leave, he said, 'It's been fun.' 'A privilege, Mr. President,' I answered.
"… Walking toward the door leading to the hallway, I paused, looked the president in the eye, and said, 'I guess we will just have to disagree on two things.'" Trump responded: "What?" "I referred to our disagreement about Jan. 6 and then said, 'I'm also never gonna stop praying for you.' He smiled: 'That's right – don't ever change.'"
Pence, in the book, acknowledges he was "angry" over the events of Jan. 6. He also says Trump had expressed regret over what happened on Jan. 6. That conversation took place on Jan. 11. "With genuine sadness in his voice, the president mused: 'What if we hadn't had the rally? What if they hadn't gone to the Capitol?' Then he said, 'It's too terrible to end like this.'"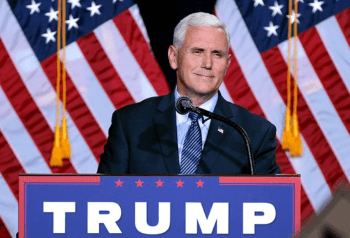 Pence said in an exclusive interview with ABC's "World News Tonight" anchor David Muir that while he was working to connect with military and law enforcement officials during the Jan. 6 riot, he couldn't speak to then-President Donald Trump's apparent inaction.
"Over the course of several hours, you spoke with the acting defense secretary. You spoke with the joint chiefs of staff, Gen. [Mark] Milley. ​You spoke to the acting attorney general, Jeff Rosen, with the chief of Capitol police. Where was the president in all this?" Muir asked the former vice president.
"David, I was at the Capitol. I wasn't at the White House," Pence told Muir. "I can't account for what the president was doing that day. I was at a loading dock in the Capitol where a riot was taking place." Pence's book describes in great detail what happened on Jan. 6. He describes how former president Trump essentially tried to pressure him into changing the election results, but he wouldn't budge. In cases like this, you must stand up for what's right, no matter the cost.