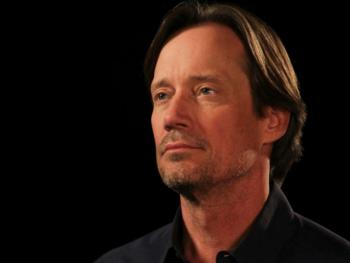 Kevin Sorbo was mocked on Twitter after the actor made a joke about CNN+ that fell flat across the platform's liberal audience. Twitter is known for being a more liberal platform, and Sorbo quite frankly ruffled some feathers with his latest tweet.
Sorbo, known for his starring role in the 1990s television series "Hercules: The Legendary Journeys," is more known these days for expressing his Christian beliefs and political opinions across social media.
Twitter users erupted after Sorbo mocked CNN+ writing:
If CNN+ had pronouns they'd be was/were.

— Kevin Sorbo (@ksorbs) April 23, 2022
Sorbo made the joke after CNN shared the CNN+ subscription-based streaming platform would shut down after operating for just one month from low subscriber rates. The news was shocking, considering the service was hyped up using major talent to attract subscribers. Just two weeks after the launch, the service was only hitting about 10,000 subscribers. Hundreds of employees could lose their jobs during the shutdown.
Sorbo's tweet caused a meltdown on Twitter. Users were quick to slam Sorbo for using poor grammar since was/were are verbs and have nothing to do with transgender pronouns making the joke fall flat. Sorbo did not respond to many of the users who seemed to be trolling with grammar lessons and negative responses.
Sorbo has never backed down from expressing his political opinions and jokes on Twitter. He once pointed out there were no Democrats on Mount Rushmore and then tweeted he was glad he didn't live in "Commiefornia" or California. The actor leaves no topics untouched and even slammed the Biden administration before tweeting, "I heard Biden is going to appeal the ruling that lifted the mask mandate on public transportation. He's already the worst administration we've ever seen, at this point, he's just showing off."
One reason Sorbo may have caused some controversy with his tweet is his stance on the LGBTQ community, where misusing gender pronouns is seen as disrespectful. Sorbo has spoken at anti-LGBTQ summits in the past alongside Kirk Cameron and former President Donald Trump. Sorbo has said before his faith has affected his career in Hollywood after he came out as a conservative Christian and will not apologize for his beliefs.
Sorbo is used to stirring the pot on social media. Facebook deleted his account that had over 500,000 followers a while back, and Sorbo just created a new page. He called the tech giant's censorship over free speech "digital assassination."
"Political correctness is the word fascism. And Big Tech censorship is digital assassination. I was quieted on Twitter and eliminated on Facebook. Because they deemed me as 'less than human,' they simply rescinded my rights to exist (in their world). Beware the fascists masquerading as 'tolerant progressives.' They do not tolerate or progress." Sorbo said after his account was deleted.
The actor has stated he will continue to defend his personal and political beliefs on social media and encourages other believers to do the same.