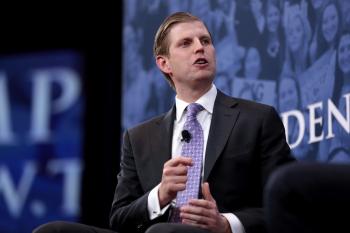 During a radio show in North Dakota, Eric Trump made the claim that his father, President Donald Trump, saved Christianity. Eric made the comment while rattling off a list of accomplishments that is father could add to his resume.
"He literally saved Christianity. There's a war on faith in this country by the other side. I mean, the Democratic Party, the far left, has become the party of the quote-unquote atheist, they want to attack Christianity, they want to close churches, they want to – they're totally fine keeping liquor stores open, but they want to close churches all over the country."
Eric's reference to liquor stores is likely based on the conservative complaint that churches were forced to remain closed while businesses like grocery stores and liquor stores were allowed to re-open during the coronavirus epidemic. The gripe related to churches remaining closed might be misdirected, as that is largely at the hands of state and local officials, rather than the president.
Several indoor religious gatherings has become "super spreader" events for COVID-19. These events last for several hours or more and emphasize community. Purchases at grocery stores, though, limit person-to-person contact with interactions being less than one minute. Recent studies are finding that these events are counting for the large majority of coronavirus infections.
Eric did not give further examples of just how exactly his father saved Christianity. Around the time his comments were made, though, allegations had been surfacing that Trump had openly mocked his Christian supporters.
"His view was 'I've been talking to these people for years; I've let them stay at my hotels—they're gonna endorse me. I played the game,'" a former campaign adviser to Trump said.