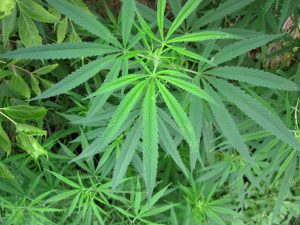 Like many churches, services at the Coachella Valley Church begin and end with the Lord's Prayer. The service lasts about one hour and is filled with Christian prayers and sermons. Somewhere in between, there is the sacrament.
However at churches like Coachella, it's done a little bit differently.
Pastor Grant Atwell distributes marijuana joints to church goers. He encourages the members to take deep breaths, and reflect on their own life and what they are thankful for. Coachella encourages its member to abstain from consuming meat and alcohol, but it uses cannabis to aid meditation.
This isn't the only "pot church" in California. Oklevueha Native American Church, in San Jose, views marijuana as a sacrament, and the use of sacred medicines like cannabis and peyote as "a mandatory part of our spiritual journey," the church says on its website.
Nationally, such churches have opened in states like Indiana, where marijuana remains illegal, and Colorado, which legalized pot in 2012. The "International Church of Cannabis" in Colorado for instance is also testing the boundaries of state rules on partaking in marijuana in a public setting.
How do churches get away with having the substance? The churches say that the government is interfering with religion. The churches rely on court rulings that made it possible for some groups, including Native Americans, to use federally banned drugs like peyote in religious ceremonies.
"Our Rastafarian Cannabis Church in San Jose is not politically originated," Coachella's websites reads. "And we support no political organization, or commercial institution, seeing that religion, politics, and commerce are the three unclean spirits which separate the people from their God."
California legalized medical marijuana in 1996 and is going to start selling recreational marijuana beginning January 1, 2018. Because of this, churches have popped up throughout the state in Oakland, Roseville, San Diego and others.
Law enforcement is having issues shutting them down, despite many of them believing they're simply dispensaries in disguise. Churches skirt the rules that govern other marijuana providers, such as requirements to pay taxes.
"I'm not going to say they're not churches, but to the extent that they're distributing marijuana, they're an illegal dispensary, in my view," said San Jose City Attorney Rick Doyle.
However, the City of Coachella is beginning to fight back and will have a formal hearing in front of a judge about the legality of these churches soon.
Marijuana churches typically require people to purchase a membership, then give or sell them marijuana and related products. They may ask for ID such as a driver's license but don't require a doctor's recommendation or medical marijuana identification card.
These church leaders stick by their statements that they are a real place of worship and choose to honor God through these means. The members of the church do, too.
Marco, a church-goer who spoke with California Healthline, grew up in the Catholic church. However he felt that the Roman Catholic Church disapproved of his sexual orientation and marijuana use.
"Honestly, this has been the most life-affirming church I've ever been to," Marco said. "Here there are true believers in cannabis — if not the faith."