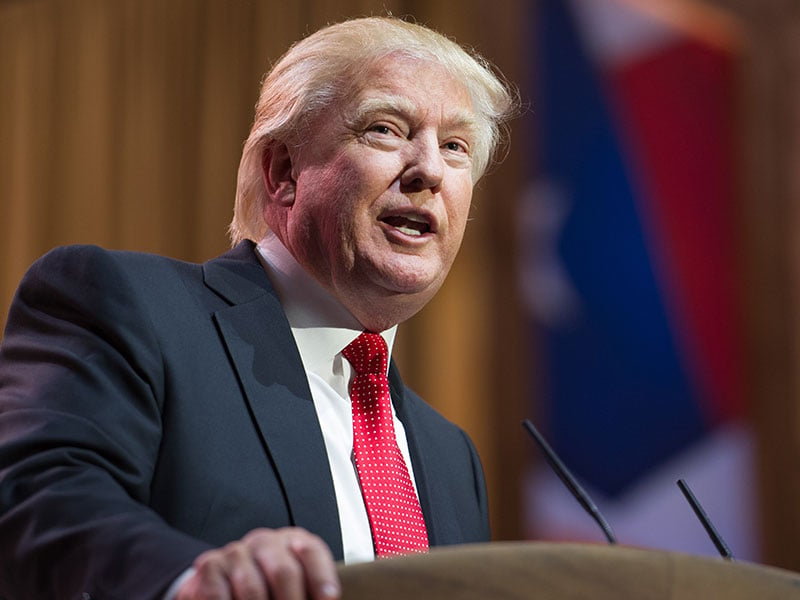 Are President Trump's recent actions yet another promise fulfilled to evangelicals?
Last week, President Donald Trump made a historic move with the announcement that the U.S. would officially recognize Jerusalem as Israel's capital and prepare to relocate the U.S. Embassy from Tel Aviv to the Holy City.
American evangelicals, especially those close to President Donald Trump are praising Trump's Jerusalem decision, hailing his announcement that the United States now recognizes Jerusalem as Israel's capital.
"I have determined that it is time to officially recognize Jerusalem as the capital of Israel," Trump said in the White House's Diplomatic Reception Room. "After more than two decades of waivers, we are no closer to lasting peace agreement between Israel and the Palestinians."
Best-selling author Stephen E. Strang believes this is yet another promise fulfilled to evangelical Christians and the Jewish community.
In "God and Donald Trump," Strang touches on this very prophecy. He gives an inside look at the journey to the Trump White House through firsthand interviews and perspectives from those who were directly involved.
"Some say declaring Jerusalem the capital of Israel is actually more important than moving the embassy, but it certainly must be a precursor to it," the "God and Donald Trump" author writes. "We must help our evangelical friends understand this, especially those who are only focused on the embassy and not thinking about the significance of Jerusalem. Going forward, it's important believers pray for the peace of Jerusalem as the implications of these decisions are realized."
Strang also writes in "God and Donald Trump," that only a strong leader like Trump could make such a bold declaration.
"There are ministry leaders and prophetic voices who are convinced God brought Donald Trump, who had said for many years that he was not at all interested in running for public office, to this place for this time," Strang wrote. "It may well be that Trump was sent by God as a bull in a china shop to break up the globalist agenda and interrupt the left's campaign to remake America in their own image. A man with a milder, gentler, less aggressive personality could never hope to take on the forces within the political establishment and prosper, which explains why Donald Trump was the perfect choice for this hour."
With the recent announcement regarding Jerusalem, Trump continues to persist against global voices, standing with Israel and many of his evangelical supporters, Strang said.
Christians United for Israel founder Pastor John Hagee believes the move was not only bold, but also brave.
"What Trump is doing is one of the most courageous political things that's been done in Washington in a long time," Hagee told CBN News.
"Many presidents have promised to move the embassy and declare Jerusalem as the eternal capital, but they have promised without performing."
Christians should care about Israel because the entirety of the Bible beginning at Genesis all the way to the end is God's position paper on the Jewish People, Hagee explained.
"God found a man by the name of Abraham and He made a covenant with him," Hagee said. "Abraham, Isaac and Jacob, recorded in the book of Genesis, that He was going to give them a strip of real estate in the Middle East, and that piece of real estate would be theirs forever."
"And Israel is the gateway to God's blessing in the Bible," Hagee continued. "Genesis 12: 'I will bless those who bless you.'"
Many pundits still ask, "How did Donald Trump win?" and many American evangelicals believe God was involved in this victory. There were Christian leaders who prophesied before the election that God had raised up Trump to lead the nation through a time of crisis. Now that the billionaire reality-TV star convinced many voters that he was for real, many wonder what God is doing now not only in Trump's life but also in the nation?
Trump described the move as keeping a campaign promise that other presidents had failed to fulfill.
According to a recent survey, a plurality of American evangelicals, 45 percent said the Biblical is the biggest influence on their opinion about Israel. Just 41 percent of evangelicals said Jews not only have a "biblical right" to the land of Israel but also a responsibility to share the land with Palestinian Arabs.
But other religious leaders, including Pope Francis and Christians living in Israel expressed dire concerns that the move by Trump would incite unrest in the volatile region.
"I cannot remain silent about my deep concern for the situation that has developed in recent days and, at the same time, I wish to make a heartfelt appeal to ensure that everyone is committed to respecting the status quo of the city, in accordance with the relevant resolutions of the United Nations," Pope Francis said during his general audience at the Vatican.
"I pray to the Lord that such identity be preserved and strengthened for the benefit of the Holy Land, the Middle East and the entire world, and the wisdom and prudence prevail, to avoid adding new elements of tension in a world already shaken and scarred by many cruel conflicts."
American Muslims expressed nearly universal dismay at the move.
"In an already violate religion, Mr. Trump's actions will be akin to dousing gasoline on a burning fire," said Ebrahim Moosa, a professor of Islamic studies at the University of Notre Dame. "The US will also sign itself into irrelevance in Mideast matters. Without a two-state solution the very future of Israel might be in jeopardy."