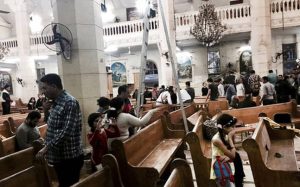 Three Muslim female police officers are being praised as heroes after attempting to save the lives of Coptic Christians that were being targeted in two attacks that took place in Egypt on Sunday.
The suicide bombings were claimed by ISIS, who has been ramping up attacks on Coptic Christians in Egypt in recent months.
General Nagwa El-Hagger, Sergeant Asmaa Hussein and Sergeant Omneya Roshdy all stood up and gave their lives to protect the lives of those in their community, despite their differences in religion. The Christian community was celebrating Palm Sunday, a holiday that recognizes Jesus' entry into Jerusalem one week before his resurrection.
St. George's Church in Tanta, Egypt was the site of the first attack. A suicide bomber detonated himself at the altar of the church, which resulted in 27 deaths and 78 injuries. Of these deaths were Sergeants Hussein and Roshdy. Hussien was at the main gate checking women who were entering the church. She was so close to the suicide bomber that her body was near unrecognizable. Roshdy was securing the cathedral as part of her job securing churches, so she was further away from the attack.
The second attack, just hours after, was at St. Mark's Coptic Orthodox Cathedral in Alexandria. At least 17 people were killed with 48 others injured. A man attempted to get into the church from an unchecked side gate, however he was asked by security forces to get into an X-ray device. Instead, the man walked to the main gate and set the bomb off. El-Hagger, a brigadier general for the Egyptian police force, was conducting inspections for people entering the church. When the bomb detonated, she rushed to the aid of her male co-workers after noticing they were having issues detaining a suspect.
It is reported that this may be the country's first instance of Muslim female police officers being killed while on duty. Each one of the women had promising and exciting futures ahead and despite this, continued to stay on duty and serve others.
Hussein, for example, left behind two daughters, Sandi and Rodina, who is a newborn. Roshdy was due to get married in a month. She was excited, and minutes before her death texted friends about getting together before the wedding.
"[Roshdy] was one of the most dedicated women who served in the police," her friend Safaa Ibrahim told Egypt Independent. "She loved her work and her country very much, and she insisted to continue working, even a few weeks before her wedding…She did not ask for a vacation."
El-Hagger was no stranger to violence. In a tragic terrorist attack in 2014 in Marsa Matrouh, she lost one of her two sons who was also an officer. El-Hagger's husband, Ezzat Abdel Qader, is the assistant of Al-Behaira security director.
Her husband said during her funeral: "We don't have anything left but to pray for her, we wish that God will give us the strength and patience to bear her death."
Islam Fathi, El-Haggar's nephew, told Dream TV host Wael Ibrashy that he was proud of his aunt, who was always "known for her kindness." He said that even though El-Haggar was Muslim, she would pray at the church alongside her Coptic Christian neighbors.
"I say to our Coptic Christian brothers and sisters: Do not be sad," Fathi told the TV host. "Muslims and Christians are one. It's not about Muslim attacking Christians. No. My aunt was a Muslim. She was a believer…She was protecting Christians who were also praying in the Church."
Egypt's President Abdel Fattah al-Sisi is now making extra efforts to protect Christians, who make up 10 percent of Egypt's population. A three-month state of emergency for the country has been declares and more troops are helping police secure public spaces.