The Bridge, an offbeat church in a Flint, Michigan shopping center, is offering tattoos to its members. It also offers occasional classes in cage fighting, poetry slams and auto repair.
"A Michigan pastor who says he's doing everything he can to reach out to people who don't feel comfortable at a traditional house of worship has opened a tattoo parlor inside his church," reports Businessweek magazine.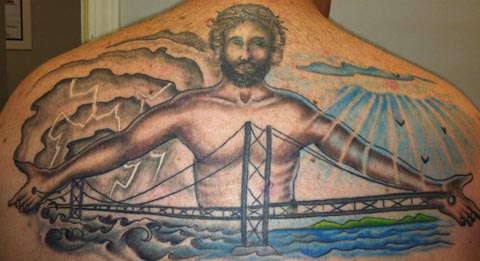 But tattoos? What's next, mixed martial arts? Professional wrestling exhibitions? Actually, the Bridge church has already offered both. It seems the Rev. Steve Bentley says his ministry is built on his conviction that mainstream Christian evangelism has become ineffective and irrelevant to most folks.
Toward that end, he hired Tattoo artists Ryan Brown and Drew Blaisdell and opened Serenity Tattoo inside the 30,000 square feet that the 500-member church owns at Flint Township's Carman Plaza shopping center.
"Just down the hall from the Rev. Steve Bentley's office and around the corner from the galvanized watering trough used for baptisms," reports the Mlive news website. There the tattoo artists ply "their trade by appointment or from noon until 8 p.m., Monday-Saturday.
And one of their best customers is the parson. His back is a Christian mural.
But what about Leviticus 19:28, which plainly says, "You shall not make any cuts in your body for the dead nor make any tattoo marks on yourselves." That would seem pretty straightforward.
Yeah, counters Bentley, but what about Isaiah 44:5, which proclaims in part: "This one will say, 'I am the Lord's' and … another will write on — Continued on Page Two