Knoxville's non-denominational NorthStar Church held services at local bar Monday night with a country-music themed sermon, after which everybody was invited to stick around and dance.
Church at the Cotton-Eyed Joe honky-tonk saloon was a success, says  Pastor Scott Cagle.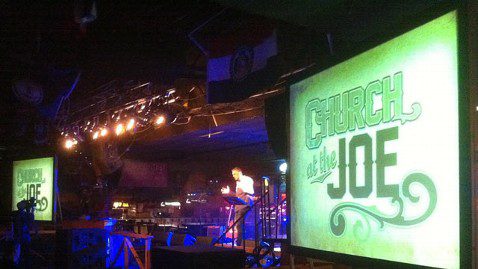 He admits the non-traditional venue may raise a few eyebrows, but "we're a church that likes to take the gospel outside of the four walls," he told WBIR-TV Channel 10 News. He said the Monday service was designed to connect with country music fans.
"They love country music, they love wearing their camouflage, they love wearing their cowboy boots, they love doing a little country line dancing. So we're just trying to be relevant to their life and their culture and just take the love of Christ to them in fresh new ways."
Local country musician and church member Donny Cohen came to Cagle with the idea.
"We still weren't reaching the heart of those people, that, maybe lost hope," Cohen told WBIR. "We feel like if Jesus was here on earth, Cotton-Eyed Joe's is where he'd be hanging out. He didn't sit back in the synagogues and wait for people to come in. He went out and hung out with sinners."
The bar's owner, Gingi Bakri agreed to rent his saloon to the church on Monday nights — when the bar is usually closed.
"I said, 'Man, you are crazy!'" Bakri told ABCNews.com. "But I was there on Monday and these people are for real. I saw a lot of my regulars."
After the sermon, a band sang Christian tunes with a Tennessee twang while worshipers line-danced and played corn hole, a game involving throwing a bean bag through a hole.
Sheri Hampton, who had never attended NorthStar, took her 9-year-old daughter to the service.
"I was very impressed with the pastor, the way he spoke, the environment, the people. I just think it was fun," she told WATE-TV.