A Canadian who saw a woman stranded on a Wisconsin highway with a flat tire stopped and helped — only to have the tables turned on him a few miles down the road when she saved his life.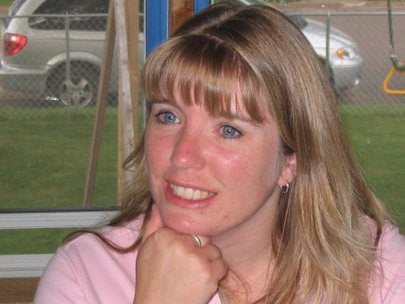 "Indiana-bound Victor Giesbrecht, 61, a father of four from Winnipeg, was driving east Saturday evening on Interstate 94," report Paul Walsh and Gabrielle Giroday in the Winnipeg Free Press , "when he stopped to help cousins Sara Berg and Lisa Meier, both of Eau Claire, get rolling again."
The two women were struggling on the shoulder with a flat and were grateful when the grandfatherly Giesbrecht pulled over and lent a hand.
"Good deed accomplished, and just minutes after getting back behind the wheel," reports the Free Press, "Giesbrecht was stricken with a heart attack. His wife, Ann, at his side helped bring their pickup truck to a stop.
"Seemingly right on cue, along came the car he had just helped get back on the road. Ann Giesbrecht was on the phone and waving her arms in search of help."
This time it was Sara who got to be the Good Samaritan. She's a nurse. As Ann called 911, Sara began cardiopulmonary resuscitation — and kept Giesbrecht alive until emergency personnel arrived.
"I talked to Sara on Sunday night and told her, 'You actually saved his life,' " Mrs. Giesbrecht said Monday from the Mayo Clinic's Eau Claire facility, where Victor remained in serious condition.
Why did he stop to help two strangers? Ann said Victor "always wants to stop" and help when he sees folks in need. "He's the type of person who gives you 100 per cent and worries about himself later."
"There's some good people out there," said Allen Giesbrecht, Victor's brother, who told the Free Press he was grateful his brother had received assistance. "When you're on the road, you never know what can happen."
Trooper Kate Sampson was the first responder on the scene and was told by Sara that Victor "had no pulse and was not breathing." Dunn County Deputy Scott Pace arrived with an automated external defibrillator (AED), which restored Victor's heartbeat.
A medical helicopter whisked Giesbrecht to Eau Claire.
State Patrol Sgt. Michael Newton said the Giesbrechts' Good Samaritan act played a key role. The two cousins immediately recognized their benefactor and didn't hesitate to stop — whereas they might have been cautious had Mrs. Giesbrecht been a total stranger waving for help.
"It could have been a different outcome," Newton said. "It's an interesting turn of fate."