Can a Wisconsin atheist group keep a Florida preacher from meeting with local kids who want to pray at their school's flagpole before classes begin?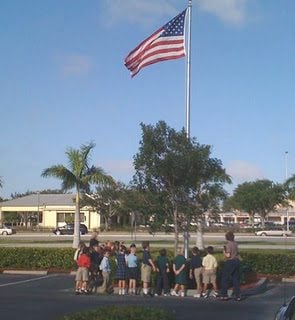 School Attorney Bruce Bickner for the Clay County School Board says the atheists can, indeed – that their threat of an expensive lawsuit means the kids need to stop praying. It seems the Madison, Wisc.-based Freedom from Religion Foundation is offended that for more than 12 years, Pastor Ron Baker of the nearby Russell Baptist Church, has showed up once a week at four different local elementary schools and prayed with any kids who want to start the day asking for the help, guidance and protection of the Almighty.
School Attorney Bickner says the school district must bow to the demands of the out-of-town atheists. He says, regardless of how anybody in Clay County, Florida, feels, praying at the flagpole is against the law, because "it is a violation of the United States Constitution for a teacher, school administrator or other school district employee to join in a prayer session during their work time," according to the Jacksonville daily newspaper the Florida Times-Union.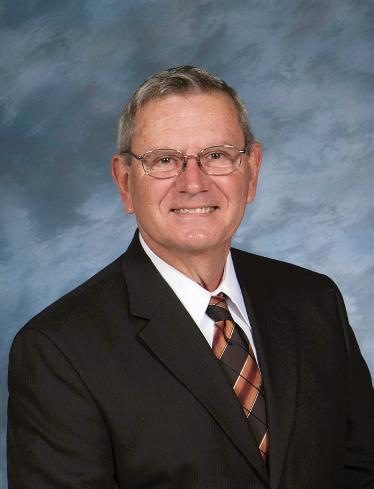 But a Christian legal group, the American Center for Law and Justice, points out that neither the preacher or the kids are school district employees. The ACLJ says the school district attorney has no authority over the parson or the children who want to pray with him – even if it offends Wisconsin atheists.
And ever since the atheist group's threats were revealed to the public, the crowd of kids has grown.
Baker, a low-key country pastor, says he just wants to continue what he's done for years without fanfare – praying with children whose prayer requests range from sick grandmothers to scraped knees and lost hamsters.
"Did you ever think that in America you'd be in trouble for praying at the flag?" Pastor Baker asked reporters. "It's disturbing."
For years, the parson and kids have prayed at 8:15 or so once a week outside each of the four elementary schools.
At Clay Hill Elementary, Principal Larry Davis suggested that Baker move the prayer time back an hour to 7:10.
Baker says he only prays with kids briefly. Asking first graders to show up for school more than an hour early is unreasonable, he says. Six-year-olds can't pray for an hour – their attention spans are barely five minutes.
Parent Debbie Kent, whose two children have attended Baker's prayer time voluntarily says she thinks that "it's important for the children" that the parson be allowed to continue – "to remind them that they need to stand up for what we believe in. This is a good way to show it."
When asked by a reporter if she thought children were being forced to pray, Kent pointed out that it was her kids' idea to go pray with the preacher.
Pastor Baker says he plans to continue praying at Clay Hill Elementary. He also prays with kids once a week at Bennett, Lake Asbury and Shadowlawn Elementary Schools. "I've been advised by the American Center for Law and Justice that there is nothing illegal about what we're doing and that it falls well within the perimeters of what the constitution allows," he said.
Superintendent of Schools Ben Wortham says he will not ask police to arrest anybody. "My goal is to find some common ground rather than end up in an expensive lawsuit and a battleground," he said.
Wortham is meeting with the School Board on Nov. 14. The school prayers will be the only item on the workshop agenda.
"Does the school board's statement makes sense?" asks the news site Hot Air. "Where exactly does it say in the Constitution that government employees aren't allowed to join a prayer session?
"It actually says, 'Congress should make no law respecting an establishment of religion, or prohibiting the free exercise thereof.'
"In general, the courts have held that the free exercise clause covers religiously motivated actions and not just internal belief, so wouldn't a prayer session count as 'the free exercise' of religion?
"And how is 'prayer session' even defined? Does it extend to personal prayers, prayed soundlessly in the stress of a school day? It's unconstitutional for the government to force employees to pray – but the Constitution certainly doesn't forbid them from doing so.
"Unless Baker is a school district employee – and he doesn't appear to be — what jurisdiction does the school board have over his actions at all?