Calling aggressive out-of-state atheists "terrorists," a small-town Tennessee mayor is asking for help defending a cross atop his town's water tower.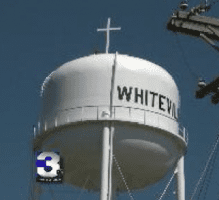 "They are terrorists as far as I'm concerned," said Whiteville, Tennessee, Mayor James Bellar about the Wisconsin-based Freedom From Religion Foundation. "They are alleging that some Whiteville resident feels very, very intimidated by this cross."
The Wisconsin group has sent him threatening letters saying they will take the small Tennessee community to court to force removal of the cross, reports WREG-TV Channel 3 News — which had reported the mayor's decision to remove the cross. However, apparently the city council has put that on hold while consulting with a Christian law group, seeking help in defending the cross.
"The mayor said his community is under attack," reported
Fox News Radio
. Bellar said the cross was erected on the water tower about eight years ago by private citizens who collected donations to cover costs, Fox reported:
It's just a cross on the water tower," Bellar said. "All we're doing is exercising our right to practice our beliefs down here but this organization is now going to stymie that. We're not out here knocking on doors trying to convert people."
But Freedom From Religion Foundation co-president Dan Barker told Fox the cross is a violation of the First Amendment of the U.S. Constitution. They've given the mayor until the end of October to remove the cross. "The law is very clear on this," Barker told Fox:
"A secular city may not promote or hinder religion. We don't have a problem with believers putting up crosses wherever they want, but this is a cross put up by the city on the city water tower."

Barker said they've been sending letters to the city since last year demanding that the cross be taken down, acting on behalf of an unnamed resident who complained.

"It offends many residents," Barker said of the cross. "Many of them think the cross symbol is an offensive symbol – that it's an insult to humanity."
Mayor Bellar said he doesn't believe that's true.
"As a matter of fact, I don't even think it's a Whiteville resident," he said. "We don't have people of that belief here and if we do they're not going to raise that kind of ruckus for the rest of the town."
The town council has voted to consult with the Alliance Defense Fund about their legal options, "This is their cause in life – to ride up and down the highway and find small towns that maybe have a religious symbol somewhere on public property," he said.
"A terrorist is more than a guy that flies the planes into the building," the mayor told Fox. "It's anyone who can disrupt your way of living, destroy your lifestyle, cause you anxiety. It's more than killing people. If they can disrupt your routine in life, that's what they want to do. They are terrorists as far as I'm concerned."
Barker said he found the comparison to be ironic.
"He's the one breaking the law," Barker told Fox.