Twenty-four-year-old Joey DeFrancesco pulled off what most of us have only dreamed of.
He quit his job in a way that made his boss look, well, perhaps not his best, in front of 2 million people and a marching band.
It seems Joey hated his job and was convinced his employer couldn't stand him. So, he used his security card to smuggle in a marching band and a videographer. As the cameras rolled and the band played, Joey offered his boss — who tried to order everybody out — his resignation letter. When the boss refused to take it, Joey flicked it through the air at him, grinned at the camera, and walked out.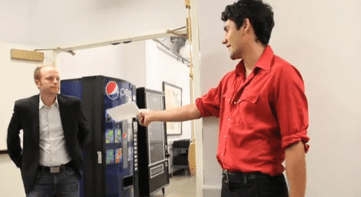 And the band played on, trumpeters, trombonists and drummers marching in cadence behind the victorious — but now jobless — Joey.
He posted the video "Joey Quits" on YouTube and Facebook, earning 2 million views and 18,092 likes at last count.
"Joey is the hero of all downtrodden workers because he is the embodiment of 'take this job and shove it.' He's living out the fantasies of countless workers who also hate their bosses," Allison Hemming, CEO of the Hired Guns, a digital marketing and talent agency told CNN's Emanuella Grinberg, who notes:
Beyond resonating with millions of people, the video says a few things about how social media are changing the way businesses interact not just with customers but with employees, she said.

"Managers should remember that if you're terrible to your people while they are working for you, your formerly silent former employees will have a platform to out you in a potentially very public way. And that sentiment can effect your business too."

It also demonstrates how social media are allowing employees to control the circumstances of their departure for a change, said Anne Kreamer, a former Nickelodeon executive and author of It's Always Personal: Emotions in the New Workplace.

DeFrancesco said he has a new job that allows him to use his history degree, but he wouldn't say where. But it's hard to say what the stunt will cost him in the long run, Hemming said.

"If Joey wants to work in a creative industry, he may get to keep his hero status and use it to his advantage," she said. "I'd say to him, get an agent, use this moment to your advantage."

Finding a job in corporate America, where potential employers do extensive background checks, could be more challenging, she said.

"He can expect to definitely be Googled by hiring and recruiting managers who might take a pass on him because they'll think, 'do I want to be the butt of a Joey joke when he quits on me in a few years? This guy seems like a disgruntled employee before I've even met him. I think I'll pass.' "