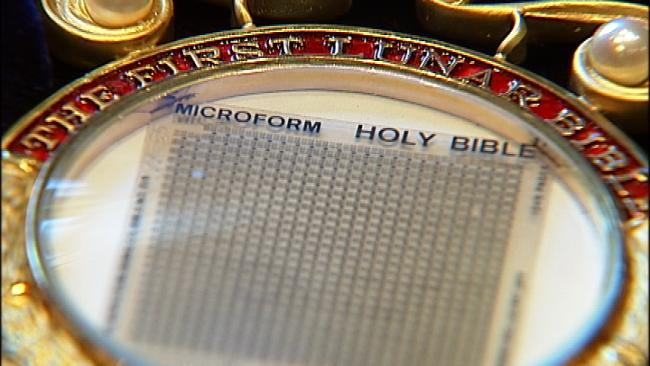 A 1,245-page Bible that once visited the lunar surface is expected to be auctioned off for $50,000.
"A rare Bible that's been to the moon and back will have a new owner Thursday night – the complete King James version, framed in gold leaf, is under the hammer at an auction house in New Hampshire," reports Richard Allen Green for the Cable News Network:
But whoever takes it home won't be able to leaf through it. It's a piece of microfilm, with the text of 1,245 pages shrunken down to the size of a postage stamp.

"It's the whole King James (Bible) on there. It's really cool," says Bobby Livingston, vice president of sales and marketing at RR Auction, which is handling the sale.
This particular Bible was taken on Apollo missions three times before it reached the lunar surface, said Livingston — first on Apollo 12, when it was stored in the wrong part of the spaceship and orbited the moon, but didn't land on it, then on the ill-fated Apollo 13, which had an explosion on board that forced the crew to turn without landing.
The sacred text finally arrived on the moon aboard Apollo 14, reported Green:
Lunar module pilot Edgar Mitchell brought 100 microfilmed copies of the Bible to the surface of the moon on February 5, 1971, Livingston said.

"Most of them were given away when they came back, or were cut into pieces as presentation pieces for dignitaries from the U.S. and from other states," Livingston explained. At least a dozen complete versions still exist.

Bringing a Bible to the moon had been a dream of a group of committed believers in the space program since the beginning of the Apollo mission efforts to reach the moon, said Carol Mersch, author of "The Apostles of Apollo."

"Through the centuries, explorers have carried the Bible across countries to far off lands, pushing the boundaries of exploration. It was not unnatural then that NASA chaplain John Stout and a group called The Apollo Prayer League would undertake a quest to see it carried to another celestial body," she said.

Apollo 1 astronaut Ed White wanted to bring the first Bible to the moon, but died in a fire on the launch pad, Mersch said.

"After his death, fellow astronauts and The Apollo Prayer League took up White's quest, so that, as Apollo 15 astronaut Jim Irwin said, 'those who came after would know that we came from a world of believers,'" Mersch told CNN.