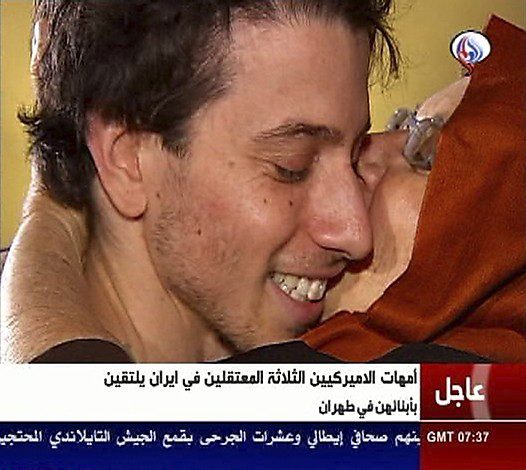 When hiker Josh Fattal was finally released after being held for two years in Iran, his friends and family — and particularly his synagogue — could finally reveal a secret kept under wraps even by the news media.
Iran — an Islamic Republic whose president repeatedly vows to destroy Israel and blames "Zionists" for most of the ills in the Middle East — didn't need to know Fattal is Jewish or that his father lived several years in Israel, writes Steward Ain in New York Jewish Week. 
But now that he's safely out of Iran, "The shofar was blown in one suburban Philadelphia synagogue last Friday night to celebrate an answered prayer," writes Ain.
As a 13-year-old, Fattal celebrated his bar mitzvah at Congregation Kol Ami in Elkins Park. The coming of age ceremony involves the young man reading from the Torah — the books of law — as well as a portion of the Haftarah — the books of the prophets as it is publicly acknowledged that he's reached an age where he is responsible for his actions.
Remembering the young man who once stood before them, "People were in tears," recalls Rabbi Elliot Holin. "It was a highly emotional moment."
Each week for the past 26 months the rabbi had recited the captives' names aloud during the prayer for healing.
"At first we included the names of all three," Rabbi Holin said, referring to their female companion, Sarah Shourd, who was released last year on $500,000 bail. "Then it was just the two of them," according to Ain:
Although it was "well known" in Elkins Park that the Fattal family is Jewish, according to resident Judy Chant, members of the Jewish community said the Fattal family did not wish to publicize it while their son was held captive in Iran. As a result, members of the news media who were aware of it deliberately omitted any reference to it.

Adam Kessler, executive director of the Jewish Community Relations Council in Philadelphia, said, "We were asked not to be involved. We were here to do what we could, but they did not want to make it a Jewish communal thing."

And when Fattal's father, Jacob, delivered a lecture at a local synagogue, Melrose B'nai Israel Emanu-El, in which he described being born in Iraq and escaping to Israel before coming to the United States, he made no mention of his son's captivity, according to Joan Theil, who attended the address.
But now Josh is free. And those who love him are giving thanks that Iran apparently never figured out his heritage.