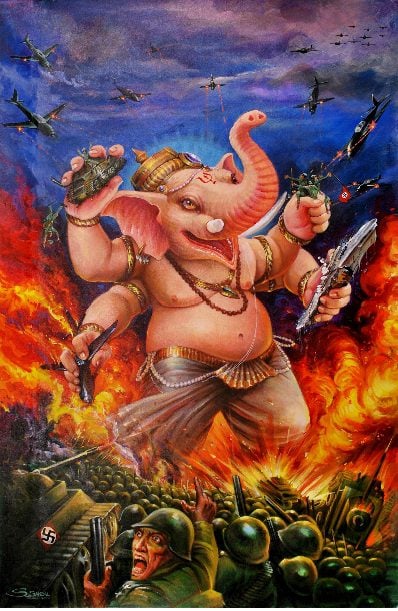 Already annoyed by ads with the goddess Lakshmi in skimpy swimwear and a disk jockey who called the holy Ganges River a junkyard, Australian Hindus are irked by a play pitting Hitler versus the god Ganesh.
"Ganesh Versus the Third Reich" is a comedy scheduled for the  Melbourne Festival.
News of its storyline has caused consternation among the Indian community, reports Bonnie Malkin for the British newspaper the Telegraph.
The play has been described by its producers as a "rambunctious fable brimming with humor," writes Malkin. "The elephant-headed Hindu god rampages through Germany on a quest to reclaim the ancient Hindu symbol of goodwill from the Nazis."
The symbol in question is the swastika, noted the Telegraph article:
Producers said the play was the result of painstaking research and that every effort had been made to ensure that it was respectful of Ganesh and the Hindu culture.

But Yadu Singh, president of the Council of Indian Australians, said that using Ganesh, the revered god of wisdom, learning and good luck, as a cheap form of entertainment was unacceptable.

"Lord Ganesh is one of the most important gods or deities for the Hindu religion and they are making fun of him, making money out of him," Mr. Singh said. "It is not right to use religious symbols, from any religion, in comedy or as a joke, it's offensive, insulting and inappropriate."
Earlier an Australian swimwear designer sparked protests in India by placing an image of the goddess Lakshmi onto a range of skimpy bikinis, noted Malkin. Then in August a Sydney radio talk show host upset Indians by calling the country an [expletive] and likening the Ganges to a junkyard.