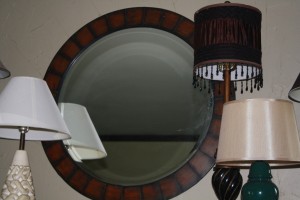 Have you ever thought about how a look in the mirror was reason enough for the queen to demand Snow White's heart on a platter?
I approach living life "happy" almost as if it were a job…a daily challenge. It's not something I take lightly and I make conscience choices minute-by-minute to keep myself in a positive place ("my happy place"). I monitor my thought process and stop myself when I'm going down a slippery slope into negativity. I choose my activities carefully, and, when I can't do a certain chore happily, I give myself permission to stop, go on to something else, and return to the previous activity when I can do it happily. I try to take care of my body–get enough sleep, eat regular meals, etc–so that exhaustion or hunger doesn't sabotage my happiness. I spend some time outside in nature every single day. And, finally, I don't read or watch anything upsetting.
Depending on how mentally/emotionally healthy I am at the current moment, sometimes staying positive means….avoiding the mirror.
I remember as a teenager I would begin getting ready for an outing hours before time to leave. I would spend the first hour arranging my clothes, hair and makeup, and then spend the second hour demolishing my handiwork. Studying myself so closely in the mirror was detrimental to me.
This is why I so admire Kjerstin Gruys (and I admire her parents who chose the true spelling of our name :)), a teaching fellow at the UCLA department of sociology, who has sworn off the mirror for an entire year–even though six months into the year she is getting married! After much emotional and mental stress choosing her wedding dress and thinking negative thoughts about her body, she made this radical choice and now she's blogging about it. For the full story click here.
Kjersten's choice resonates with me. I think the mirror and I will take a little break from long, thought-laden time together. I think it's much better to check my reflection in the eyes of others. If my smile makes their eyes light up, then I look just fine.