Tonight when my husband and I were watching the kids racing their bicycles, we commented yet again on how quickly they are growing. I know that's a cliche. As soon as an infant pops from the oven, random strangers yell out, "Enjoy them while they're little! They don't stay that way very long!". I am suspicious, though, that right now–when they are 12, 9, and 7–is probably the ultimate season of parenting. As the husband so aptly stated tonight, "Things have just gotten better since they stopped using the bathroom in their diapers!" And we've both worked with teenagers long enough to know that the time coming up holds its own challenges…
With this parenting era zooming by so fast, I often review our lives and ask myself, "Are the most important bases covered?" I tend to think they are…the children are learning, they're healthy, they're loved and they know how to work and play. So what about the extras? I look back at my childhood and let my emotions remember what was so great about being a kid. And a funny thing pops up again and again: Mom's cooking.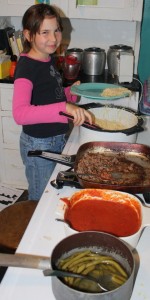 Let's face it…eating is an important part of the day. Sometimes I *really* don't like being responsible for feeding this family each and every (big huff) day! I even chose a cruise for our last vacation for the sole reason that I wouldn't have to even think about what to feed them! But when I think back to my childhood I can remember the smell and the taste and the texture of Mom's potato soup….the Indian fry bread….the meat and potato casserole…the Shake and Bake chicken…and the apple pie (wow…we liked our carbs! lol). I like to imagine my children when they are grown remembering their mom's cooking: the chocolate chip cookies, rice pudding, chicken and dumplings, or red beans and rice (yes, I still like the carbs!).
I've recently found a way to not only add to the kids' mental/emotional scrapbook of memories, but also teach them a valuable life-lesson. I've taught them to cook. I've taught them to prepare some meals so…(1.) I don't have to huff as much…(2.)they can add an important contribution to their family unit….(3.) and they will learn a new skill. This is how I do it:
1. I make my usual weekly menu and buy the ingredients for the meals. Then I read that menu out loud to my children and let them each choose the meal they would like to prepare.
2. When the time comes, I bring that particular child in the kitchen with me and show him/her step-by-step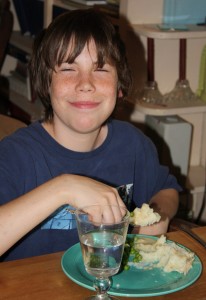 exactly how to cook that meal. I try to be clear and concise and let the child do as much of the work as possible. When we come to the table, we all make a very big deal over the accomplishment.
3. I repeat steps one and two the following week.
4. Week three I buy the ingredients for the same meals we had Week #1 and I assign each child to prepare the same meal again…but solo. This way the child knows he/she really does know how to make the particular meal. And I'll never have to make *that one* again ;).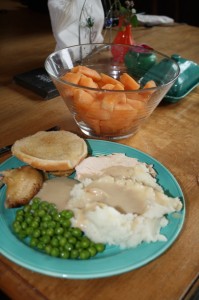 Some of the meals they have prepared are:
But the most favorite one of all–to prepare and to eat–is the HOBO MEAL!
Hobo Meals
Ingredients:
Enough hamburger patties for your family
Enough sliced raw potatoes for your family
A can of green beans
A can of Beefy Mushroom Soup (or whatever kind you prefer!)
Seasoning
Aluminum Foil
Preheat oven to 350. At the table place a square of aluminum foil about 10 inchesX10 inches. In the center place the hamburger patty. Season well. Top with 4-5 potato slices and a large spoonful of green beans. Cover with a TBS of soup. Pull the edges up from the aluminum foil, connect, and roll down…making a nice little pocket. Repeat until all the food is contained in cute little shiny packages. Place on a cookie sheet and put in the oven for one hour.