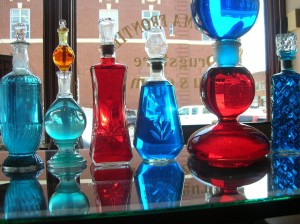 In the minivan with my family–traveling toward a new place to explore– is one of my favorite HAPPY PLACES. Vacations, however, can be expensive and exhausting and sometimes it's impossible to get away from work and responsibilities for an entire week. Oftentimes vacations can be more trouble than they are worth.
Knowing this to be true, we chose a new route this year. I am a childrens performer and the bulk of my work is in June and July. I travel from one Oklahoma library to the next, putting on one-hour programs. Many times I'm in the car much longer than I am before an audience. Always in the past I've traveled alone and we've used my earnings from the summer to take a one-week vacation in the fall, but this year we decided, instead,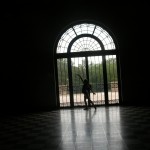 the family would travel with me. We would make the composite of many day trips equal a one-week, one-destination vacation. So far we've taken six mini-vacations and we have three more to go. It turns out there is something fun to do at even the most unlikely places and there are so many advantages to exploring places near home for just one day:
There is very little planning necessary and hardly any packing! Before we leave I do a quick internet search to see what attractions are in or near the town where I am performing. I write down addresses and phone numbers and take along the GPS and cell phone. In the morning I pack a sack of snacks and a small cooler of water bottles. I tell the kids to gather swim suits or hiking shoes or to put on cute clothes, depending on where we're going, and I make sure they have a book or MP3 player for the car.
No need to worry about things at home. When a family has over 60 animals, they can worry and fret away a vacation, but we've found just one day away from home is just about right. I make sure the house is picked up the night before we leave so when we return the next evening, it's nice to come home!
The "vacation feeling" has a much smaller price tag. I'm a budget kinda girl but just like most people on vacation, I don't think family adventures are the place to count pennies. We spend freely on these outings but that pretty much means stopping for a snow cone any time we see a stand and eating at the best restaurant we can find (finding our state's famous eating establishments has been one of the high points of our trips). State parks and museums cost much less than the usual places we vacation.
A day really is long enough. I'm surprised each time, but it really is true that within five hours we

Aquarium: Jenks, OK

truly can see and do most of the things we want to see and do in each town. The destinations are less than 200 miles away which equals a round trip of less than six hours in the car. We have at least five hours of fun in the middle. Also, there is an added benefit to traveling my own state roads: I've developed a love, appreciation, and even pride for the place in which I live. We've learned much about our very own state and this Home-School Mom is counting the trips as state history curriculum! Hey, People….Oklahoma is O.K.!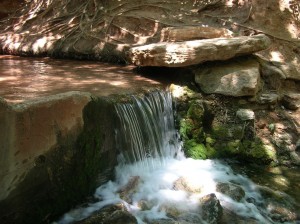 My summer job makes our "Discover Oklahoma!" idea particularly easy and common sense. I've realized, though, that even when I'm not performing, giving a day for an adventure with my family is a smart way to spend some time and money. I encourage you to find some happy places near where you live…you may just find that a car, with the people you love sitting close, is one of the happiest places on earth.