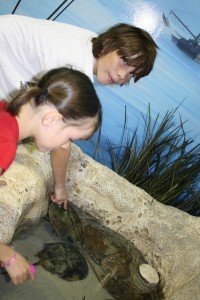 Today we spent the day at a very cool aquarium gazing at bubble-like jelly fish, a crazily-playful otter, and ferociously-feeding sharks. My 12-year-old boy–taller than I–wrapped his arms around me in this public place and said, "Thanks, mom. Thanks for bringing us here." An hour later he repeated the same hug and the same appreciative comment. I blinked back tears.
I love (even like!) my children for a million different reasons but it is their consistent thankfulness that impresses me the most. I hope that my husband and I have had something to do with it. We have made four conscious parenting choices which, I believe, have helped our children become grateful kids:
We model gratefulness. We both notice the wonderful day-to-day events and comment on them to the children. When something tastes good we talk about how good it tastes. When the sky is a beautiful color, we point it out and relish it. We notice miraculous coincidences and we thank God for them….out loud.
We are selective. We have had some financially lean times in the past twelve years, and, of course, during those times we've had to be selective about how we spent our money. We didn't go out to eat or to entertainment places often and we certainly didn't buy a lot of toys. But even in the times when we had money, we've been selective on how we've spent it for the sake of our children. We don't go out to eat often because then it takes away from the fun of those special times when we do go out to eat. We rarely spend money on entertainment, but when we do go to the movie theater or play putt-putt or tour an aquarium, it is a big deal! We did take our children to Disney World but we were careful to go at the optimum time for all three children to enjoy themselves (they were 11, 8, and 6) because we knew we would only go the one time. We're also careful about buying toys. Usually the children buy their own toys unless it's a birthday or Christmas.
We have routine. Special events can't feel special if they can't contrast with the "normal days". We have normal days. Most days we wake up, do chores, study our home-school lessons, run errands, prepare supper, spend time as a family, and go to bed. That is the "norm" so a day at the Aquarium, a meal out, or a movie at the theater stands out as something to celebrate. We space out the extra, fun events with lots of routine in the middle.
We know our kids. We choose special outings and gifts that appeal to the children, not necessarily to us. If I were to choose a fun afternoon event, I'd choose Ross Dress for Less and $100 to spend :). But I know my children well enough to know this would not be fun for them nor would they be grateful. I did, however, recently take my two young girls shopping for mom-clothes and they were very sweet and helpful: offering complements and hanging up my clothes. The girls were so nice about it because it is not the sort of thing I require of them often. When we break from the routine, we choose outings that we will *all* enjoy.
After a fun-filled day at the aquarium, I'm ready to hunker back down in to our normal and routine home life, but I look forward to the next hug and sincere "Thanks, Mom". It's sure to happen again and I am sure to be grateful.