We're not thrill-seekers. We usually take one vacation a year. We leave our small town less than six times a year for the bigger cities nearby. We avoid crowds. We see maybe two-three movies in the theater a year. We don't go out to eat often. Entertainment is watching a dvd, a trip to the library or feed store (yes, really :)), or a walk in our own woods. Excitement for us is a new litter of baby bunnies born or a Bradford pear tree to plant!
We love our children, though, and we want the very best for them so sometimes we break out and do something big, thinking it will be important to them. We take them to the circus…or to the zoo…heck…we even took them to Disney World and on a cruise! They are grateful kids and they appreciate anything extra. They say the appropriate "Wow! Thanks, Mom! Thanks, Dad!" when we make a special effort for them.
Yet we've found that it's the simple things that mean the most to them. This weekend it rained and rained and rained and then it rained some more. All day Sunday (Easter) we sat indoors watching the rain. Joe grilled hamburgers on the porch 🙂 and we played a few games, ate Easter candy, and visited with family. It surprised me but Josiah, our 12-year-old, must have said ten times, "This has really been a great day!" (??) That night when it finally stopped raining, we surveyed our land. We found our back acre, where Joe has created a walking park among the trees for us, was flooded with a foot of moving water. SPLASH! It did not take the kids longer than two minutes to assess the situation and dive in…treating our little forest as if it were a water park. I shook my head, laughed, and headed back to the house, but I heard their voices yelling to my back, "MOM! This is the best Easter EVER!"
A few weeks ago we took the kids to the local carnival. It was a short visit because I only budgeted enough money for one game, ride, OR treat per kid (they didn't mind…like I said…grateful kids). The next day, however, Lydia, the seven year old, used sidewalk chalk to make a bulls eye on the side of our cement block garage. She had stones for us to throw and if we hit the right spot on the bulls eye we received a prize–a picture she had drawn herself.
After Joe mowed our field, Anya and her friend took the hay and made a play house…a hay play house!
We buy a load of sand every year for the spot where we put the soft-sided swimming pool. They play in that sand for days.
They dress up the cat.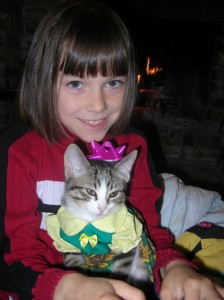 Josiah likes to take his fishing pole and head to our miniature pond.
All three kids sat spell-bound while I read "The Seventeenth Swap" by Eloise Jarvis, begging for me to "keep reading!" when I reached the end of each chapter. And every few nights Joe reads aloud from one of the "Hank the Cowdog" books by John R. Erickson and we all gather around to listen.
They play croquet with their grandma.
I learn a lot from watching these kids. I learn to be grateful for the big things and the little things. I did the happy dance when our house received a new roof this year! But I do a happy dance every morning when that lovely cup of coffee is brewing, too! I am a childrens performer and it's exciting to perform for an auditorium of 200 kids…but it is satisfying to share one of our home school books with my own three children, too.
So tell me….what are the little things you enjoy? Or, if it applies, what are the surprisingly simple things your children like to do?