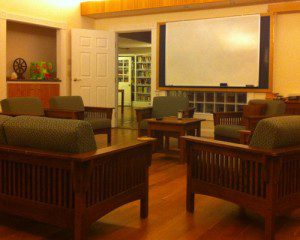 It's that time of year again. I will be teaching my annual workshop at the Barre Center for Buddhist Studies entitled: "I, Me, and Mine: Untangling the Dharma of "Self" through Metaphors and Mindfulness. I invite you to join me for a heartfelt, intellectually stimulating, and contemplative weekend in the peaceful surrounds of BCBS.
The workshop will be held the weekend of February 22-24. We will gather on Friday evening and start with a delcious meal cooked with love by the BCBS chef, Steve. Then we'll begin the program. We'll work through the weekend, exploring different metaphors and using them to understand the Buddha's teachings.
The Buddha loved metaphors. I didn't realize how much when I first wrote Wild Chickens and Petty Tyrants: 108 Metaphors for Mindfulness. It was only after the book was released that I started to understand how central metaphors were to the dissemination of the dharma. The Buddha used about a thousand different metaphors to express about 500 different concepts.
By the end of the weekend, participants will have a better, living, breathing understanding of what the Buddha taught. We will also work with my method called Story Art that is a powerful practice for working through obstacles, stuckness, and fear.
Here is a more detailed description of the workshop:
It's impossible to understand the self without resorting to metaphor. A more radical proposition is that what we consider to be "me" is, itself, a metaphor. Metaphors are often thought of as colorful augmenting features of language. However, a growing body of research shows that ordinary "literal" language is infused with metaphors. It is impossible to think, feel, or act without the use of metaphors. In fact, the evolution of the human mind may have depended on the use of metaphors. The words we use are not "dead" and the concepts they point to can contribute to stress, mental anguish, and unhappiness. If we are not familiar with the metaphor of "me" we will suffer. The Buddha used metaphors as upaya, ("skillful means") and we will continue that practice. To be aware of the metaphors we use can facilitate our creativity and growth. This workshop integrates the use of metaphors and poetry with mindfulness practice and exercises to deepen our understanding and experience of the Dharma, enabling us to live with more freedom in the here and now.
You can register for the workshop on the Barre Center for Buddhist Studies website here.