It's full on winter in Northern Vermont. It has snowed over five feet on the mountain in the past couple of weeks. There is snow in the valley and today saw a strong wind and temps in the teens. Winter just like it used to be. Global warming seems like an alien concept on days like today and winters like this one as it is shaping up.
Many Vermonters suffer from Seasonal Affective Disorder or a milder version of winter blues. This is why I've decided to offer a class to help people cope with winter using mindfulness and cognitive behavioral therapy. I was driving today and saw a pick-up truck with "winter sucks" painted in dust on the back window. While we can't change what winter brings us, we can certainly change from something that "sucks" to something we can navigate. Behavior, attitude, and how we pay attention are the keys to changing our relationship into something more positive.
Kevin O'Connor of The Times Argus newspaper took an interest in my work and did a nice write up about this work. It appeared on the front cover of the 30 December Sunday issue.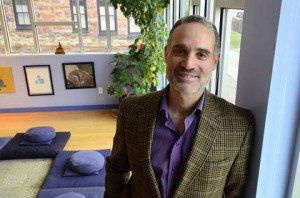 If you are in the Northern Vermont area and have difficulty coping with winter, consider joining us for the series of classes. For more information visit my website: http://exquisitemind.com/mbct-for-sad.html