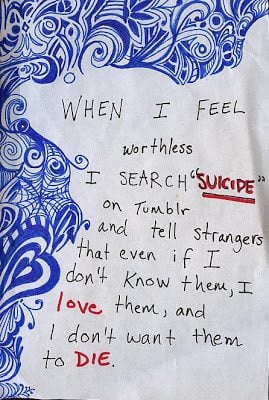 The PostSecret Project started when Frank Warren printed 3,000 blank postcards with instructions and his address on the front. He distributed them randomly in the streets of Washington DC. He asked people to present an artful secret.
The process went viral and he started getting postcards from around the country and the world. Half a million secrets later, PostSecret is a phenomenon. It is the most visited non-commercial website on the Internet. His college speaking engagements are sold out, as was recently the case at the University of Vermont.
The instructions are: 1) The secret must be true, and 2) The secret has never been told to anyone else. Warren publishes ten new secrets every Sunday on his blog and collections of these postcards in a series of books .He always includes one of this own postcards in the books.
He says these postcards reveal "countless human dramas" and can be "shocking, silly, or soulful." Reading through one of his books is like reading through my clinical caseload. Some of these postcards are humorous; most are dealing with gritty, painful content.
Warren feels the appeal of PostSecret is that it, "Connects us with our deepest humanity." The postcards, no doubt, tap into our confessional need and provide relief from inhibition.
Revealing secrets helps us to process them. It helps them to move from subject to object. Once an object, the story can be released from the Storytelling Mind or the default mode network of the brain.
The story has to move through the DMN and come out as an object to consciousness. Telling the story, revealing the secret is the process of processing. It helps us to dis-identify with the events by releasing them and by making into something—either spoken or written—that can be observed from a safe distance.
As on object, the secret becomes amenable to mindfulness. When we can pay attention to it as an object, the power of the pain or fear is diminished.
When the process is done in a creative fashion it appears to add another dimension as evidenced by the popularity of PostSecret.
You can see the secrets at www.postsecret.com
You can watch Frank Warren give a brief talk at TED here.