My dharma friend, Soryu Forall, has founded the Center for Mindful Learning. "The Center for Mindful Learning (CML) is a non-profit organization devoted to improving lives and strengthening communities by offering mindfulness training that cultivates happiness, compassion, and success for the benefit of all people and all living things."
Burlington, Vermont is and will be a stronger community as result of their efforts. They will be holding their third annual fund raiser "Yoga on the Mountain" on September 8. If you can't make the event, consider making a donation on their website.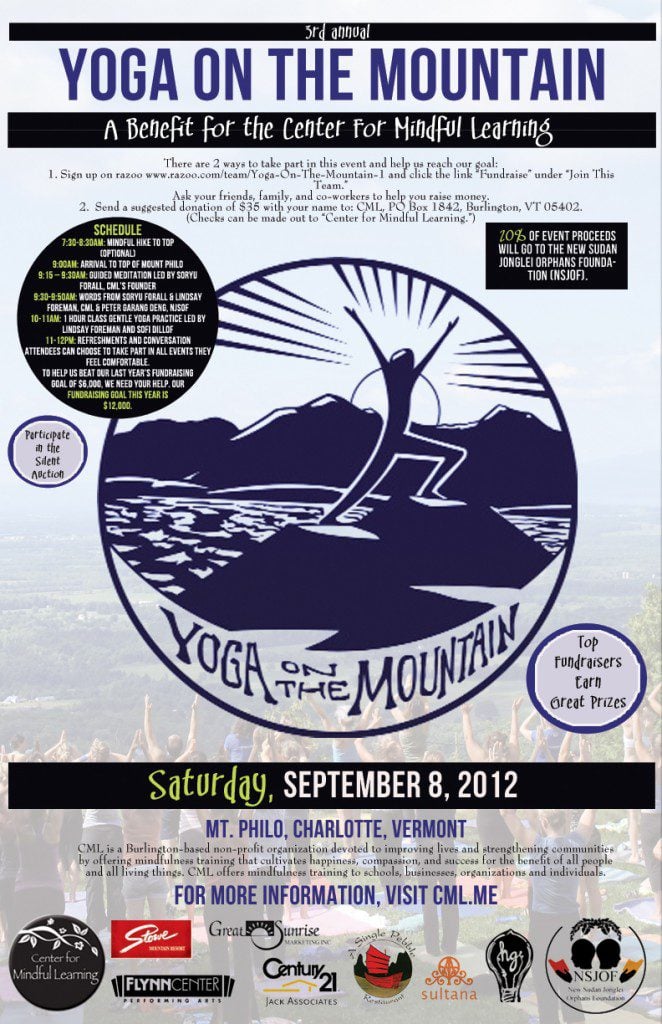 You don't want to miss
Yoga on the Mountain 2012
Saturday, Sept. 8, 2012
Mt. Philo, Charlotte, VT
Please join us as we practice mindfulness and yoga together on top of Mount Philo to benefit
Center for Mindful Learning
programs. The proceeds raised will enable us to serve more individuals, schools, businesses, and community organizations that wish to bring relaxation and energy into their lives by learning mindfulness tools.
This year, 20% of our proceeds will go directly to New Sudan Jonglei Orphans Foundation (NSJOF), a non-profit dedicated to improving the future of orphaned children in the Jonglei state and surrounding areas in Sudan. NSJOF provides funding for education, and educational services, for orphaned children in order to make them productive members and future leaders of their communities.
Event Schedule:
7:30-8:30am: Mindful hike to top (optional)
To help us beat our last year's fundraising goal of $6,000,
we need your help. Our fundraising goal this year is $12,000.
Please consider donating $35
here
There are 3 ways to take part in this event and help us reach our goal:
Sign up on razoo www.razoo.com/team/Yoga-On-The-Mountain-1 and click the link "Fundraise" under "Join This Team." Ask your friends, family, and co-workers to help you raise money. Top fundraisers will receive great prizes!
Send a suggested donation of $35 with your name to: CML, PO Box 1842, Burlington, VT 05402. (Checks can be made out to "Center for Mindful Learning.")
*We are currently looking for corporate sponsors. Contact Harrison Heyl at harrison@cml.me to learn how your business or organization can get involved.
Come to these free yoga classes to learn more about CML and NSJOF and pre-register for Yoga on the Mountain:
Saturday, July 21, from 4:00 to 5:30 p.m. at Laughing River Yoga with Sofi Dillof
Thursday, August 23, from 7:00 to 8:30 p.m. at North End Studio with Lindsay Foreman