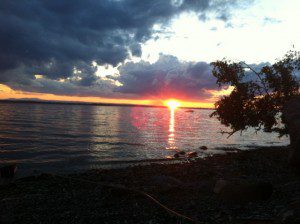 Having just written about the obstacles to practice, I would like to invite you, dear readers, to submit questions that are arising in your practice. My favorite way of teaching is responding to questions.
The challenge of mindfulness is not understanding mindfulness–it's easy in concept, difficult in practice: Pay attention to what is happening now and when your attention moves away from now, bring it back. Repeat as necessary.
How do we apply the principles of living in the moment in the midst of our stressful lives? Our minds can play tricks on us, convincing us that these thoughts we are engaging now are necessary, perhaps even vital to our very survival. If my mind is in any way a reflection of minds in general, these thoughts are neither necessary nor vital. They are just thoughts, obsessive ones at that.
What are the situations that challenge you most, where you find it hardest to be mindful? When do you go on automatic pilot? By submitting these situations, we can talk through the process of being mindful even in the midst of stressful circumstances. These situations may be at work, at home, or in the transitions between. They may be in social contexts or when we are alone with ourselves, perhaps awake in the middle of the night.
You can submit your questions as comments or if you prefer to email me, you may do so at drkozak [at] exquisitemind [dot] com.