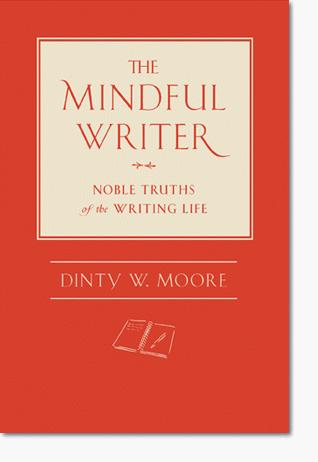 The Mindful Writer: Noble Truths of the Writing Life (MW) is a beautiful little book. It is hard-bound without a dust jacket. A slim volume that you can slip into your coat pocket. I've been carrying with me almost everywhere I go, tucked away waiting for a free moment where I can sip its wisdom elixirs.
The book is organized around 59 quotations from writers, the majority of whom are not Buddhist. Moore then comments on the quotes and puts them in a mindfulness context.
This little book is a huge permission slip. It shares quotes that give the writer (or really any creative person) permission to struggle, doubt, persist, and take risks. MW invites you to become, well, as the name suggests, a mindful writer–giving yourself fully to the process, devoting your time, energy, and heart to it.
There is a great invitation beckoning from these pages: To find truth, speak truth. Here, truth is the temerity to say what you know to be so, even if you didn't know that it was so before you committed those words to the page.
In entry 29, Moore says,"Don't be the writer stifling every word that wants to be written" What does it mean to let go? What does it mean if "I" get out of the way and allow the writing process to proceed on its own. I think this relinquishing of "I" has something to do with the default mode network of the brain (or the DMN). The DMN is a widespread network of regions in the brain that become active when we think about our selves in self-referential ways. "Who am I?" "Where have I been?" "Where am I going?"
We are afraid to let go because we might bump into some truth. And the truth can be scary. It may upset our safe, conventional beliefs about things. The truth may be inconvenient, entailing things we'd rather just avoid. The truth may require us to see and account for important yet difficult things about ourselves. I once had a patient request that I "f*** him up with some truth." This request can be a playful, open, if explicit way to frame the truth that comes with letting go.
I am reading MW with great interest. As I writer, I am reading it for the wisdom, guidance, and reassurance that I'm not alone in the crazed anguish that writing can be sometimes. I am reading MW with an eye towards the language–the impeccable grammar, the concision, and the familiar gentleness that Moore evinces.
I am reading MW it a bit a time for two reasons. The first is richness. Each quote and its illumination is a full course meal. It takes time to assimilate; it takes time to breathe into its possibility and to feel the wholeness it points towards. The second is greed. I don't want it to end.
Yet, just as I finished I began again, diving back into its depths of wisdom to remind me that I am a writer. Each quote reaffirms that writing is a love affair with life, work, and self (much as David Whyte reminded us in the Three Marriages).
I meet a lot of people on the golf course. We always ask each other, "What do you do?" I usually say, "I am a psychotherapist, meditation teacher, University lecturer, and writer." Reading MW, I wonder why I put writing last. I have just finished writing my fourth book-length manuscript; does four books make one a writer? I've started to practice saying, "I'm a writer." While writing does not yet pay the bills, it is what I spend much of my time doing.
MW is having a positive influence on how I'm editing my current book project. I am coming to this document with more patience, ardor, and a sense of letting go than I would have before. I am reminded to bring mindfulness to bear on the writing process. Sitting with the page, as it were, meditating.  
Here are some of the take home messages from The Mindful Writer
— Writing can bring you to mindfulness, the truths the Buddha taught
— Writing is difficult; don't expect it to be otherwise
— Writing is work, inspiration is not the place to start (and just may show up when you are doing the work)
— Writing is truth serum if you allow it to be; it can reveal the truth of who you are
— Writing requires paying attention to the world (including your own experience)
— Creativity resides in any moment–every moment (when you are paying attention)
— Take the writing seriously but not the writer
— Just keep writing
If writing is what you spend your time doing, MW is an indispensable source for inspiration, courage, and wisdom. The Mindful Writer is available now from Wisdom Publications, Amazon, IndieBound, and wherever books are sold. Visit Dinty's website: The Mindful Writer.