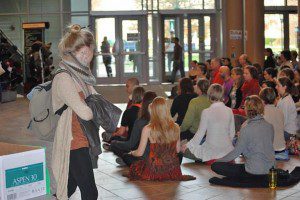 27 April 2012: I enter the Davis Center at the University of Vermont. I'm heading for the meditation flash mob scheduled for noon. I enter on the second floor and pass by throngs of students getting their lunch in the cafeteria. I think to myself, "Don't they know the flashmob is underway?" Across the hall, a study room is packed with students."Don't they want to take a study break with meditation and a little chanting?" I walk downstairs and join about 100 or so intrepid souls to meditate for 30 minutes followed by an eleven minute "Om" sound bath.
I am sitting in the thruway of the grand atrium of the student center. As I meditate, I can feel the cool breeze coming in from the front doors (it happens to be snowing lightly today). I can hear the shuffle of people walking by. People are talking, laughing, and carrying on with life as usual.
I have a perma-smile plastered on my face. The energy is buoyant, I feel my mind fill the space of the atrium. Blissful.
I spend my life in the center of a mindfulness circle. I am writing about it, reading about it, teaching it, practicing it–everyday. This constancy gives me a skewed view. Most people are not interested in meditation as evidenced by the fraction of students at the Davis Center who came to the Mob. When this event occurred in November a lot of people joined the meditation as it progressed. This time, few extras sat down. Last time, there was an audience that cheered. Perhaps this invisibility was due to the proximity to the end of the semester.
I'm not cynical, however. The more we do these public meditations, the more people will become interested. The mindfulness revolution is underway, if slowly. From the opposite side, it's remarkable how many people actually showed up to investigate their inner life. This event highlights what is perhaps a cultural divide–the inner versus the outer life. Today, we put the inner in the middle of the outer!
MedMob is part of a worldwide movement. Look for one near you.