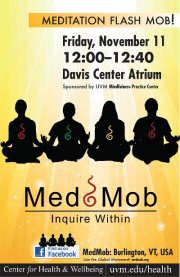 MedMob is a variation on Flash mobs with a bit more organization. It's an international movement to bring meditation to the people. It's catchy motto is "Inquire Within." The concept is simple: get people together in one place, meditate in silence and then chant. From their website:
"Our intention is to create an environment for people from all religions, all world views, and all experience levels to join together in meditation. Our vision is to continue inspiring world-wide meditations until the entire world is invited to join – literally!"
There is a MedMob coming to the campus of the University of Vermont on 11 November at noon. People will gather in the atrium of the Davis Center for 30 minutes of meditation led by Miv London, founder of the UVM Mindfulness Practice Center, followed by an eleven minute "Sound Bath" of the "Om" chant.
If you are local to Burlington, Vermont come join this event. There is power in numbers. To sustain your practice after this event, you can stop by the Exquisite Mind Meditation Studio where we have meditation sessions four days a week.
If you are not local to Burlington, you can check the MedMob website to see if there will be a MedMob near you and if not you can consider starting one yourself. You can also check them out on Facebook.