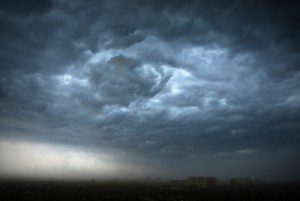 Hurricane Irene is very real and causing death and damage on the East Coast. It's raining here in Vermont, the winds are picking up. We are not sure what to expect as this storm wends its way north. There has been record flooding in Southern Vermont and the storm is moving, delivering heavy rains. The last hurricane dumping this much rain was in Vermont was 1939.
Things will happen and there is nothing we can do to control them. Trees down, power outages, flooding. Who knows. The challenge is to keep breathing and greet things as they arrive.
Of course, being prepared helps. Beyond this we wait. This is life unfolding.
Of course we can also look at the hurricane, symbolically, as a metaphor. Things that we don't want hit us, powerful things that could knock us off course, delay us, even kill us. And, here too, we are challenged to keep breathing and meeting the future as it becomes the present. The hurricane represents impermanence — the changing forces we confront in every moment of our lives.
So, I hope you have fared well in this latest storm. Practicing mindfulness will come in useful, now and for the next event. Who knows that that will be? Earlier this week was an earthquake. What will tomorrow bring?