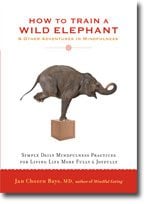 Do we really need yet another book on mindfulness? In this case, yes. Jan Chozen Bays, M.D., author of Mindful Eating, has written How To Train a Wild Elephant & Other Adventures in Mindfulness (Shambhala 2011) a collection of mindfulness practice gems in this accessible, helpful, and thoughtful book. Starting with the Buddha's metaphor of training a wild elephant, she presents 53 weeklong practice designed to integrate mindfulness into daily life.
The first practice is to use your non-dominant hand. So for most of us, this is the left hand. Why do this? For one, it interrupts our capacity to be on automatic pilot because it forces us to be more deliberate with hand movements. The more we do something the more automatic it becomes. The actions become controlled by the unconscious parts of the brain rather than requiring conscious attention. Using your non-dominant hand brings you back to conscious attention. And since we are always using our hands, this is a good portable practice to infuse your day with mindfulness.
I first learned of this technique from Charles Tart, consciousness researcher and pioneer in transpersonal psychology. Bringing mindfulness to our actions wakes us up out of the trance state we are walking around in most of the time.
There are a plethora of books on mindfulness and more coming everyday. They all address the same thing. Most don't break any new ground, for what ground is there to break? We mindfulness teachers quip that we are "selling water by the river" because you already know how to be mindful. Nevertheless, finding the right mindfulness book for you is a matter of fit. Perhaps, between where you are in this moment and the style of the writing. Does the author speak to you? Reach you? Different strokes for different folks.
I think you'll find this book inviting. You can take one practice at a time and try it out for a week. The practices seek to infuse mindfulness into all aspects of life, from eating to speaking. And, after all, this is the point of inviting mindfulness into our lives — to be mindful as much as possible.
Another practice is looking out for filler words in our speech. I started doing this many years ago when my mentor told me how distracted he was by my use of "you know" during a presentation. Since that time, I've sought to expunge this filler word from my speech. It's a challenging practice, and that phrase slips out on occasion, usually if I am talking in a hurried or stressed manner. I hear it though; it's like fingernails on a chalkboard.
When I listen to radio interviews, I'm keen to "you knows" and its astonishing how many talented celebrities use "you know" in distracting quantities, "you know?" These fillers make our speech tentative, diluted, and coy. She points out that great orators don't use them. Imagine if Jesus had said, "Love your, you know, neighbor, as, sort of, like, yourself." The writing is often funny like this and always forthright.