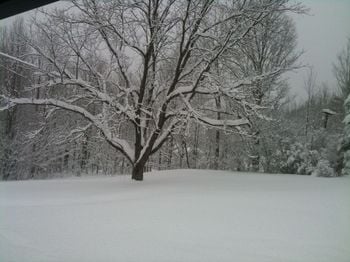 The snow has been falling gently here in Northern Vermont for the past day or so and the beauty just sort of punches you between the eyes. The naked branches of stick season offer themselves to the gentle flakes of snow, and the snow creates colonies that reach to the sky.
It's easy to be mindful with such beauty. The air has been still and the temperatures, mild. it's easy to smile when the world shines like this.
Tonight the snow yielded to the twilight allowing the sun to shine horizontal and numinous.
This snow is also slippery and invites us to be mindful on the roads. Winter also invites us to be prepared and to respect our relationship with nature. When we're prepared and open, the world offers itself as a playground.
Every day the weather in my Vermont home teaches impermanence. And when I can kiss the changes as they go by, I get knocked over by joy. When I can release expectations and celebrate the snow when it arrives, embrace the rain when it arrives, and the grey when it lingers, it's hard to get out of the way of joy.
Wherever you are and whatever the weather is doing, joy is just waiting for your invitation, waiting for you to grant it permission to show up. Beauty is here to stay .. get used to it!