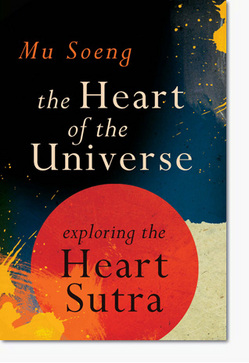 It's the end of the calendar year and we've traveled "full circle" from the beginning to the end of this year. As if by magic, on January 1 we'll be starting anew (even though we are really just continuing, one moment after another).
Mu Soeng, in The Heart of the Universe: Exploring the Heart Sutra, offers a compelling
metaphor for enlightenment with the image of a circle.
Imagine a circle, the bottom
of the circle would be 0 degrees (or 6 PM if you prefer to imagine a clock).
This is where we find ourselves living in samsara still caught up in greed,
hatred, and ignorance. Not awake and not awake to the possibility of being
awake.
Having come into contact with the dharma, one has the opportunity to
intellectually understand the Four Noble Truths and concepts like dependent origination. You
are now at 90 degrees (or 3:00 on the clock) This awareness is intellectual not
experiential.
When it becomes experiential we would find ourselves at 180
degrees on the circle (or noon on the clock). Here we have the opportunity to
experience primordial moments and transcend the suffering created by
involvement with the Three Poisons of greed, hatred, and ignorance. To the extent that we can transcend our categories,
this is experienced at 180 degrees.
Buddhahood would occur if one keeps
proceeding around the circle to 270 degrees (or 9 on the clock). This state is
described as Anutarra Samyak Sambodhi.
Coming full circle to 360 degrees (back
to 6 o'clock) is "nirvana in action … by employing skillful means rooted
in wisdom and compassion." 0 is the same place as 360. We end where we begin — in the world — yet different.
This is a very different image then going from point A (samsara) to point B (nirvana) traveling along a path. This image is a trap for striving and Type A achievement mind set that actually interferes with our spiritual progress.
Full circle reflects the classic Zen wisdom that in the beginning the mountains are the mountains and the rivers the rivers (0 degrees); in the middle the mountains are no longer mountains and the rivers no longer rivers (90-270 degrees); and in the end the mountains are once more the mountains and the rivers the rivers (360 degrees). The world remains the same; we have transformed.