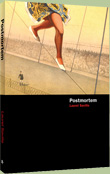 Her musings on gender-based perceptions of solitude got me thinking about one of my favorite quotes from Rilke that was the basis for my metaphor, The Guardianship of Solitude, in my book, Wild Chickens and Petty Tyrants: 108 Metaphors for Mindfulness.
It is a question in marriage, to my feeling, not of creating
a quick community of spirit by tearing down and destroying all boundaries, but
rather a good marriage is that in which each appoints the other guardian of his
solitude and shows him this confidence, the greatest in his power to bestow. A togetherness
between two people is an impossibility, and where it seems, nevertheless, to
exist, it is a narrowing, a reciprocal agreement which robs either one party or
both of his fullest freedom and development. But, once the realization is
accepted that even between the closest human beings infinite distances continue
to exist, a wonderful living side by side can grow up, if they succeed in
loving the distance between them which makes it possible for each to see the
other whole and against a wide sky!
Laurel is a freelance writer and author of the powerful memoir, Postmortem about her mother, Anne Ford.
"Sadly,
some lives cannot be?understood until after death."
So it was with Anne Ford. A successful, charming beauty
queen, model, and fashion designer during the 1950s, this glamour girl about
town was poisoned by internal demons and the permissive Southern California
culture of the 1960s and 70s. She ended her life as an alcoholic street person,
stabbed and strangled in a burned-out building in West Hollywood. Years later,
her daughter, the writer Laurel Saville, began the long process of unraveling
the twin trajectories of this unusual life.

Postmortem takes the reader on an emotionally charged
journey that ranges from Saville's eccentric West Hollywood childhood, to a
top-secret, Depression-era airplane design. Whether describing the artists of
the seminal Sunset Strip gallery where Andy Warhol got his start or the hippie
parties at the legendary Barney's Beanery, Saville's distinctive prose lends
insight into the events and emotions that surrounded the life and death of
stunning Anne Ford. This candid exploration of one woman's life and death ends
up exposing unexpected truths about both mother and daughter and unscrambling
the many webs that entangled Ford's exceptional life.