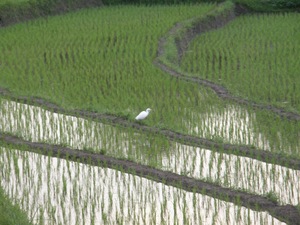 My University of Vermont friends and colleagues, David and Carla
Osgood, teach a unique course in Bali. Continuing Education credits are
available for mental health professionals. This course has changed the life of
my students who have had the fortune to take it. The course will take place of
UVM spring break, 4-13 March 2011. For students, 3 course credits are available
(HLTH 296).
Here is what David has to say about the course:
For the past ten years we have been teaching
courses and professional seminars in three traditional cultures: Bali,
Indonesia: Belize, Central America and Samoa, South Pacific

Our work in these countries has given us and
our students an extraordinary opportunity to learn and grow personally and
professionally through developing ongoing relationships with host country
families by participating with them in their daily lives.

We utilize several key frames as we enter these
cultures. Some of the frames include : Constructive Developmental theory,
Transpersonal Psychology (particularly the perspective of non-dualism and
mindfulness) , Balinese Hinduism, Traditional Balinese Medicine and the
theories of intercultural communication.

We hope to build a small learning community
with folks from a wide range of backgrounds, interests and ages. We think that
this course may have particular interest to people interested in traditional
healing and practicing mindfulness in their lives. An excellent article on Balinese
traditional healing is below:

http://balihealer.com/2010/modern-medicine-for-traditional-people-traditional-medicine-for-modern-people/

The seminar will be limited to 12 participants.

The link to this winters UVM Bali Course (HLTH
296) is below along with a link with some pictures taken last winter.
Tuition remission is available to those elegible

If you are interested and have questions we
need to speak with you. Please call us at (802) 899-3965 or e-mail

Our best,

Carla and David Osgood

http://learn.uvm.edu/studyabroad/bali