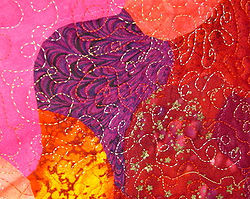 According to Wikipedia, "the running stitch or straight stitch is the basic stitch in hand-sewing and embroidery, on which all other forms of sewing are based. The stitch is worked by passing the needle in and out of the fabric."
Sounds like the breath, no? Our breath is the running stitch that runs throughout our days and nights. As the running stitch is to sewing, breathing is to life — the basic movement that keeps everything together.
Of course, without breathing there is nothing. We may take breathing for granted, never give it a second thought. We may consider breathing boring. But if you can't breathe, the breath becomes very interesting all of a sudden.
Since we are breathing always, the breath becomes a natural place for focus. It's always waiting to receive our attention and like the running stitch can be a thread that runs throughout our day. It's quite possible to stay in close proximity to the breath as we prepare for work, as we work, and as we transition from work.
Breathing can be our ally and companion, connecting us to our bodies and the present moment. The more we tie in to the breath, the stronger the fabric of our life will be. There will be more presence, more continuity, and more heart.
So get out your needle and thread and stitch your life together. Pay attention to the breath that is occurring now and then again now. Each time we come back from a story to this singular breath we touch peace. No story; no strife.