In Zen Women: Beyond Tea Ladies, Iron Maidens and Macho Masters Grace Schireson tells the untold story of women in Zen. The unfortunate truth is that the history of Buddhism is not one of gender equality. While the Buddha did finally relent after persistent pressure from his aunt Prajapati to admit women into the Sangha against the norms of the time, admittance has not translated to equivalence of opportunity. She tells the story of a male Zen master who responds to a female student's question, "How many women teachers were at the conference (a North American Zen conference)? The Zen master replied, "We were all women." Huh? His answer speaks to the unity of all things and the apparent lack of need to worry about gender discrepancies. We are all women; we are all men. As an aside, what did the Zen monk (male or female) say to the hot dog vendor? "Make me One with everything." But this begs the question of why the male version of Oneness. Empowered by writing about the forgotten histories of women in Zen, Grace would now reply to this Zen master, "How many of you women used the ladies room at the Zen conference?"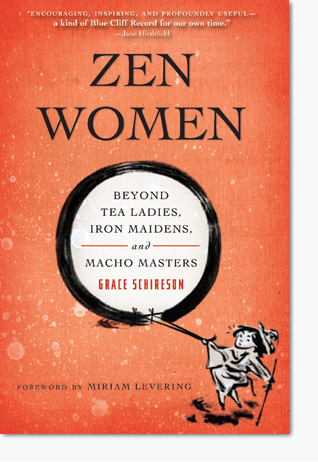 Grace is the a Dharma teacher in the lineage of Suzuki ROshi and received her empowerment from Sojun Mel Weitsman Roshi, abbot of Berkeley Zen Center. She has also been empowered to teach koans by Keido Fukushima Roshi, chief abbot of Tofukuji Monastery in Kyoto Japan. Grace is the head teacher of Central Valley Zen Foundation and has founded and leads three Zen Groups, including Empty Nest Zendo. In Zen Women, she has "moved beyond the question of why and how female Zen acestors had been erased from Zen history. I have soght to identify these erased women and put them back in the Zen practice I loved." She continues, "I hope that this collection of teaching will inspire women to express their lives more fully, inspire Buddhist practitioner to engage in their practice more authentically, and provide Western Dharma teachers with women's teaching stories and examples of adaptations and variety in Zen practice." I'll leave you with one precious example:
One morning an old lady experienced kensho (Zen awakening) while cleaning up after breakfast. She rushed over and announced to Hakuin (the famous 18th century Zen master) "Amida has engulfed my body!" The universe radiates! How truly marvelous! "Nonsense!" Hakuin retorted. "Does it shine up your asshole?" The tiny lady gave Hakuin a shove and shouted, "What do you know about enlightenment?" They both roared with laughter.