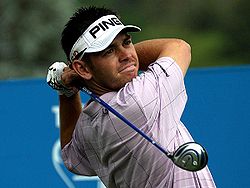 Sunday 18 July was the 92nd birthday of Nelson Mandela and fittingly the British Open Championship was one by a South African, Louis Oosthuizen (pronounced "woost-hazen"). He walked down the 18th fairway, accompanied by his caddie of seven years, Zack Rasego; white and black walking together to victory. Oosthuizen was raised by farmers and needed help from the Ernie Els Foundation to afford to play golf. Zach calls them the "Rainbow Team."
This is South Africa's greatest sport summer, first with the World Cup and now with one of their own winning one of Golf's Major Championships. During apartheid, South Africa was banned from International sport.
Oosthuizen maintained his composure on the world's biggest golf stage to extend his 5-stroke lead going into the final round. One commentator described the round as "boring" but I found it quite riveting. Would this 27-year-old kid, ranked 54th in the world, be able to maintain his composure and his lead? This is extraordinarily difficult. Many before him have faltered.
"It was a battle for me to keep calm round this course. That was the biggest goal for me, to keep calm. It's probably going to hit me tomorrow or the week after what I did," said Oosthaizen after his victory.
He did so, in part, by focusing on a red dot applied to his golf glove. This red dot served as a trigger to bring him to mindfulness before he made his swing. By his own admission, his thoughts are all over the place, but this dot helped him to draw his attention to now. The results were remarkable. He finished 7 strokes ahead of his closest competitor, leaving names like Tiger Woods and Phil Mickelson in the dust (he beat them by 14 and 18 strokes respectively).
Upon receiving the Claret Jug, his first words of thanks were Happy Birthday to Nelson Mandela.