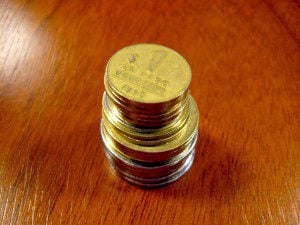 I recently went to find new sandals online. I know the brand I love and did a search for them. I found a site that gave me a window of a variety of shoes for the brand I wanted. At the top of the page I was thrilled to see a message with a code to get 20% off my order. I quickly found the sandals I wanted and since it was 20% off I decided to order a pair of shoes too,
When I got to the checkout and put the discount code in, I got a dollar and change discount. I was furious! It should have been a lot more. So I called customer service. Matt, he guy who answered, explained that the brand I ordered doesn't participate in discounts, I asked why I got the code on a page with only that brand. That seemed misleading to me. He had no answer. I told him nicely that it was the first time I'd ordered from that site, and probably my last.
Matt got quiet for a moment and then said that since I was a new customer, he wanted me to be happy. I joked and said I wanted me to be happy too. He laughed and said he'd change my bill to reflect the 20% off to do that. Three days later, they arrived. I looked at my credit card statement online and saw I was charged over thirty dollars less than the total I had gotten originally! All because I spoke up!
It' important to speak up, especially when it comes to money Before you do, think your situation through and be prepared with reasons for why you feel what happened to you was an injustice and why you deserve what you're asking for, like I did. I felt I shouldn't have gotten a discount code on a page with only the brand that didn't accept it. It made sense to the customer service guy. You shouldn't just user "I want it" as your reason.
Speak with assurance and conviction. Accept that you're right. If you don't feel you should get it, why would the other person? "I feel I'm entitled to____" sounds better than "I want you to_____." You have to believe that you're entitled to what you're going after. Do affirmations to bolster your confidence:
• "I have the right to express what bothers me."
• "I trust myself to communicate effectively."
• "I know I'm right so I should speak up for me.
The more you believe and let it show in your words and attitude, the more people will take you seriously. It begins with talking yourself seriously.
************
Join The Self-Love Movement™! Take the 31 Days of Self-Love Commitment—"I commit to do my best to do something loving for myself, however big or small, for the next 31 days." and get my book, How Do I Love Me? Let Me Count the Ways for free at http://howdoiloveme.com. Read my 2014 31 Days of Self-Love Posts HERE. Join the Self-Love Movement™! on Facebook. Watch the video made with Hoobastank's song–The reason–that illustrates the power of self-love.