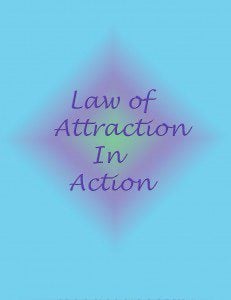 This is post 278 in my series on the Law of Attraction in Action. You CAN use your power to manifest your desires.. I do it every day! Read all the posts in my Law of Attraction in Action Series to see how.
I had a client who needed to manifest a new client for his company. Business had been slow and he was scared he might get laid off. He complained that he had been telling the Universe what he needed but the Law of Attraction didn't work for him. He assured me that he was doing what he could to have a strong vibration but it didn't work. Many people give up when they don't get what they want in the the time they want it. I hear comments like:
•    "God must not like me."
•    "If it hasn't happened by now, it won't."
•    "Why do other people manifest easily but not me?"
•    "What's wrong with me?"
•    "What am I doing wrong?"
I can answer the last question. My client lost his patience and gave up. If you lose faith and don't trust the process of manifesting with the Law of Attraction, your vibration also gives off doubt and fear. It's important to trust that you will get what you want—at the right time. Years ago I was going after a book deal for a title I believed in. My agent at the time gave up on it after it was turned down by many editors. My vibration was strong and my agent's colleague offered to try to shop it. No deal! I was advised to give up.
I refused and kept affirming I had the right deal at the right time. A year later I met an agent who loved what I told her about the book. She agreed to take it on. Shortly after I got a better deal than anyone ever expected—except for me. An editor that my agent knew was just moving to a new job and was looking for a book like mine. So it was the perfect time to find that agent.
"Trust is all about fearing less and loving more." ~ Unknown
I loved me, and my book a lot. I wasn't scared of not getting a deal. I trusted that the right one would come at the right time. That's how the process works. It was the right deal for that book. And because I trusted the process, I didn't give up. It's important to accept that you manifest what's for your highest good. You may not be ready for what you want.  When you can trust, and have the patience to wait as I discussed in my post, Law of Attraction in Action: Patience, you have the best chance of manifesting your desires.
See all the posts in my Law of Attraction in Action Series HERE.
*************
Join The Self-Love Movement™! Take the 31 Days of Self-Love Commitment—"I commit to do my best to do something loving for myself, however big or small, for the next 31 days." and get my book, How Do I Love Me? Let Me Count the Ways for free at http://howdoiloveme.com. Read my 2014 31 Days of Self-Love Posts HERE. Join the Self-Love Movement™! on Facebook. Watch the video made with Hoobastank's song–The reason–that illustrates the power of self-love.