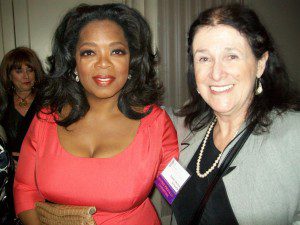 It's fun to dream, but not when you never see any results. It can get frustrating to want something you dream about and feel like it's out of your reach. I've had many dreams that never materialized. Years ago, after enduring many disappointments, I vowed to not be a dreamer but instead to be a dream manifestor. I wanted to be a successful author—now I'm writing my 16th book. I wanted to be on Oprah—and I was.
A few years ago I had a dream—a big one! When I heard the song, "The Reason" by Hoobastank,the lyrics spoke to me. I had a vision of this song being representative of self-love and thought a video could get the message across. The chorus goes, "I've found a reason for me, to change who I used to be. A reason to start over new. And the reason is you! I pictured people pointing to themselves in the mirror on that last line.
The more I thought about it the stronger my dream got. Yet I had no budget or help—except for the best support anyone could ask for—God! I began by talking to Him, asking for guidance. I needed someone who could guide me to find someone to make the video and push me. Once I put it into God's hands, I watched for signs.
The first was getting an application for a Self-Empowerment grant from New York Women in Communications, which I'm very active in. I was very busy and didn't want to make time to apply. But I got nudged to do it spiritually. When I finally did I looked up to say 'Thank you!" In the spring I was awarded a grant to hire Rory Kelly Connor, a fabulous branding and marketing coach. She helped me to approach someone at NYU in the Tisch School of the Arts. He kindly referred some graduates to me and I told Ryan Sasha Kupchik I'd like him to make the video.
It was great to have a good videographer and editor on board. But there was still one BIG issue—MONEY! Ryan's fee was fair but it had to be paid. So I looked up and asked to be shown how to get the money. Right after that I was thumbing through Woman's Day Magazine and read about The Pollination Project, which gives seed grants to individuals who are changing the world. I applied for a grant and was honored to get one to make my video! Thank you God! I never expected to find my answer to where the money would come from in Woman's Day! Good thing I trusted and paid attention.
Then I recruited friends, family, neighbors, and people who work in my building to be in the video. Some of my self-love ambassadors sent clips for me to use. I believe it all came together under the umbrella of faith in God's hands. i cried when Ryan finished the edits and watched my dream come to life—a video that illustrates the power of loving yourself! I want to encourage people around the world to build self-love. The more people who love themselves, the better the world will be.
Dreams really can come true when you believe in yours strongly and passionately! I was strongly driven by passion to make the video. The third element in realizing dream is strong faith in whatever higher power you believe in. I encourage you to get yourself excited about a dream that been burning in you and love yourself enough to make it happen.
Below I share my dream come true—my video called Self-Love is THE REASON. I'd GREATLY appreciate it if you share the video with everyone you know and help my dream of spreading the word about the power of self-love to expand. I wish you the blessing of lots of self-love!
*************
Join The Self-Love Movement™! Take the 31 Days of Self-Love Commitment—"I commit to do my best to do something loving for myself, however big or small, for the next 31 days." and get my book, How Do I Love Me? Let Me Count the Ways for free at http://howdoiloveme.com. Read my 2014 31 Days of Self-Love Posts HERE. Join the Self-Love Movement™! on Facebook. Watch the video made with Hoobastank's son–The reason–that illustrates the power of self-love.