Today is Day 16 of my 31 Days of Self-Love posts to celebrate Self-Love Month with suggestions for jump-starting your own self-love and joining The Self-Love Movement™.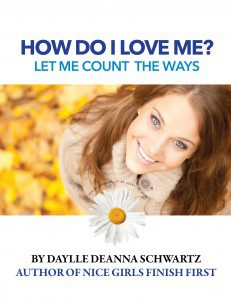 I recently asked some experts how they show themselves love and included some in a previous post, to give you more ideas that you can use for yourself. Now I've got some more suggestions! I'm delighted to have some wonderful ones to share with you. By pampering your mind, body and spirit, you can build strong self-love, which is a magnet for loving things and people into your world. Here's what they had to say:
My self-love practice is to randomly send handwritten notes to those that I love and treasure in my life. Sending written notes, like a telephone call,  has become passé. But, I find that writing a "love" note to someone nurtures the love I have for myself since doing so allows me to deeply connect with others heart to heart. Anita Jefferson, Happiness Expert
I intentionally and regularly spend a day of quality time alone. The day includes sleeping late, eating my favorite foods and pampering myself with a manicure and pedicure. I end the day at home with my favorite scented candle and listening to my favorite music. This is my way of saying "I love you" to myself and to enjoy the gift of me without distractions. Annette Johnson, The FLY (Forgive and Love Yourself) Coach, life coaching for women
Since my heart attack my entire life has been focused on loving me (while loving life and others)!  I now take care of "me" as I would a very expensive vintage car. In past years I would not have paid such close attention to small details (listen to my engine) as I do now. I also take moments to "smell the roses". My life began after my life threatening heart attack and I encourage others to love themselves now as apposed to waiting until its almost too late. Nefertari Nelson, inspirational speaker and author
I try to remember that I really couldn't have done it without me We gladly give credit to other people, to the Universe or even to Father Time, but we seem to have trouble giving ourselves the credit we deserve.Even when I am on the road,  I schedule in a few minutes each day to remember the good things I am doing – the important role I play in my own?future. Karen Taylor Good, Grammy nominated singer/songwriter
Personally I have removed toxic folks from my life. Some of the folks include a cousin that I was close to since a young child and an adult son. Also got rid of a boyfriend who was toxic for my life. Unfortunately no matter how hard I tried and sacrificed for these two they weren't satisfied or happy. I had to cut the cords to allow myself happiness. It does not mean that I don't love them anymore it just means I love myself more. I'll help them if I can but not at the expense of disturbing my inner peace. Basically, I am at a place where I am not allowing folks in my life that aren't positive, uplifting, encouraging and trying to accomplish some goals for themselves. I am a go getter and don't have time for people that drag me down no matter who it is. Nikki T.
What I do to show myself love and respect is dress well.  I love a complete? outfit, feeling polished and pulled together once I am satisfied with the?look I smile in the mirror and say "you look hot!".   I feel great, look ?great and it translates into my outlook on life, the eternal optimist is?what I am called!  Nothing can get me down when I am well dressed!  Maria Calautti, Le Grand Chic Italia School of Fashion

When I'm feeling down I go to the dollar tree and buy two gifts one for me and one for a friend. McCollonough Ceili

I was looking in vain for a great spa here in Brussels with a nice resting space. Then I discovered my own bath in my bathroom with a spacious bed for relaxation next doors in my bedroom.   Ilona, intuitive coach and artist ?

I love bubble baths.  I celebrate my body and give myself a mini-vacation by taking a delicious bath with some special soap and bubbles.  The water and fragrance washes away my worries and feels luxurious.??I have a friend to in the UK (I live in NY) we have a google hangout call every two weeks.  Part of our conversation is to celebrate our accomplishments since the last call and to support one another if we feel stuck.  We are one another's vision keepers.Susyn Reeve, best-selling author of The Inspired Life:  Unleashing Your Mind's Capacity for Joy
Try some of these tips to say "I love Me!" The better you feel from showing yourself love, the stronger your self-love will become! You can check out the other 2014 tips from pros HERE.
**************
Join The Self-Love Movement™! Take the 31 Days of Self-Love Commitment—"I commit to do my best to do something loving for myself, however big or small, for the next 31 days ." and get my book, How Do I Love Me? Let Me Count the Ways for free at http://howdoiloveme.com. Read my 2013 31 Days of Self-Love Posts HERE. Join the Self-Love Movement™! on Facebook.