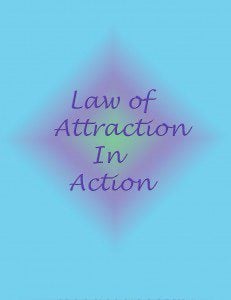 This is post 254 in my series on the Law of Attraction in Action. You CAN use your power to manifest your desires.. I do it every day! Read all the posts in my Law of Attraction in Action Series to see how.
I have a client who has his own business. He's smart and resourceful and should be making a lot more money than he is. He works all the time and lives hand to mouth because he doesn't make enough money to save. One day when we spoke he was all excited about getting a new client. He said he gave the client a low price for his service because his overhead was low. Then he added, "If I could just make enough to cover my expenses for a few months I'd be happy." I immediately told him I knew why he wasn't making more money—he was telling the Universe and his subconscious that he would be happy with having enough to just get by.
He was settling. His first priority was to pay his bills and staff. Having just enough to do that left very little for him in the end. His thoughts told the Universe that he was willing to settle for just enough to get by. I recognized this pattern because I've done that too. When I began writing Tapping into Wealth:  How Emotional Freedom Technique (EFT) Can Help You Clear the Path to Making More Money,  with the fabulous Margaret M. Lynch, the leading expert for finding and clearing block to getting more money, I was trying to figure out why I didn't make more money. With all that I do I knew I should.
While writing chapter 5, Your Earliest View of Money Paradigm, I got smug. Margaret recommends looking back on the messages from childhood about money that may still be creating a block. I decided I had no traumas. While my mom was always afraid to spend money because of her own childhood trauma  and was always afraid of not having enough, my faith keeps me strong in always having enough. That was my light bulb moment. I recognized that I've always been focused on having enough money for what I need, instead of looking beyond that to having more money having I need for my basics.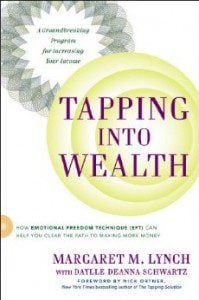 I was happily thinking how nice it was that I always have enough and the Law of Attraction accommodated me by giving me what I was happy about attracting—enough—no more! That was a big factor in my resistance to making more money. Once it became clear I began affirming that I want more than enough, which I advised my client to do too. Then I used Tapping to clear my belief and also did it with my client. Using EFT can clear the blocks that create resistance to getting what you want as I discussed in  my post, Law of Attraction in Action: Use EFT (Tapping) to Clear Resistance.
Shortly after some money-making opportunities began to show up. And my client recently picked up  new ongoing project that would more than cover his bills and he still has money coming in from his other clients which means he's taking in a lot more than enough.
It'd good to have enough money coming in to pay your bills but more than enough is better. My client is very happy with the latter. Be careful about the messages you give to the Universe. If you've been struggling with money having enough may be  relief but don't sell yourself short. Clear your resistance to attract  more than enough with Tapping and enjoy the surplus of wealth!
See all the posts in my Law of Attraction in Action Series HERE.
**************
Join the Self-Love Movement™! Take the 31 Days of Self-Love Commitment and get my book, How Do I Love Me? Let Me Count the Ways for free at http://howdoiloveme.com. Read my 2013 31 Days of Self-Love Posts HERE. Join the Self-Love Movement™! on Facebook.
Please leave comments under my posts so we can stay connected.