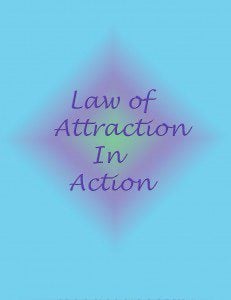 This is post 257 in my series on the Law of Attraction in Action. You CAN use your power to manifest your desires.. I do it every day! Read all the posts in my Law of Attraction in Action Series to see how.
It's human nature to set small goals instead of big ones. When I ask clients to set one, it's usually just step above where they are now. Then I ask what they REALLY want. That often triggers negative emotions—guilt, feeling low self-value, doubt, etc. and beliefs about why a big goal is impossible:
•    "I shouldn't be greedy and ask for so much more."
•    "How on earth would I be able to manifest so much?"
•    "Shouldn't I just try to manifest in small increments?"
•    "I'm scared I won't be able to handle it."
Often these beliefs come from things you've heard in the past or not valuing yourself, your talents or your abilities. If you hold onto them, you won't be able to create a good vibration for setting a big goal. It's important to clear these old limitations if you want to successfully manifest a huge goal, otherwise if you try to set a one, you'll bring up many negative emotions that will sabotage it.
When I decided to start The Self-Love Movement™  I wanted to do it on a large scale, because helping people build self-love means a lot to me. But I thought that would be too much to go for in the beginning. So I got someone to make me a cheap website and announced what I called my Self-Love Initiative. I wasn't comfortable with doing it that way since my website didn't reflect my bigger goal. My heart wasn't in it and my vibration reflected that. So I stayed small for a while.
As I wrote my new book that I've been talking about, Tapping into Wealth: How Emotional Freedom Technique (EFT) Can Help You Clear the Path to Making More Money,  with the fabulous Margaret M. Lynch,  the leading expert for finding and clearing block to getting more money, I recognized my resistance to setting a large goal. I was scared to spend the money to invest in my big dream.  I did Tapping to clear my resistance. Shortly after, I hired a good web designer to build me a new site that I love and launched The Self-Love Movement™. Instead of small numbers, over 10,400 people have downloaded a free copy of my 13th book, How Do I Love Me? Let Me Count the Ways.
When you use the Law of Attraction, it's not harder to achieve a huge goal than a small one. You just have to apply the same principles to a bigger goal—clear your blocks and create a strong vibration by getting excited about it so you can generate a very positive vibration about it and a positive intention. Using EFT can clear the blocks that create resistance to getting what you want as I discussed in  my post, Law of Attraction in Action: Use EFT (Tapping) to Clear Resistance. KNOW that the right people and resources will come to you at the right time. Then you can pursue your huge goals!
See all the posts in my Law of Attraction in Action Series HERE.
***************
Join The Self-Love Movement™! Take the 31 Days of Self-Love Commitment and get my book, How Do I Love Me? Let Me Count the Ways for free at http://howdoiloveme.com. Read my 2013 31 Days of Self-Love Posts HERE. Join the Self-Love Movement™! on Facebook.
Please leave comments under my posts so we can stay connected.