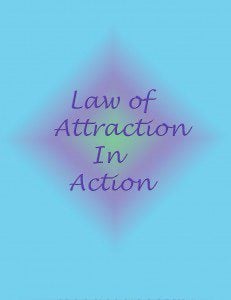 This is post 252 in my series on the Law of Attraction in Action. You CAN use your power to manifest your desires. I do it every day! Read all the posts in my Law of Attraction in Action Series to see how.
You can desire something a lot but if you have a negative belief about it, you probably won't manifest it. Negative beliefs are part of the resistance that can block your goal from happening. You can WANT to make more money badly—VERY badly—but if you believe that it's impossible, you'll never get rich. You won't manifest what you want just by wanting it. You manifest what you believe, consciously or subconsciously.
Years ago I complained to a friend that I was fed up from not having met a guy I liked in a while. She laughed when I said in a disgruntled tone, "There are no good guys in NY," and pointed out that I'd never find a good guy if I continued with that belief. She was right. I'd been saying , "There are no good guys in NY," for years and that belief attracted the poor caliber of men the I met. So I changed my belief to , "There aren't many good guys in NY, but there is a good one for me." I kept affirming that and shortly after met my next boyfriend.
Remember your beliefs tell the Law of Attraction in Action what you expectt, even if it's not what you want. Years ago my friend who lived in LA bugged me to come visit her. I was dying to see her but kept saying, "I can't afford a ticket." Thankfully I recognized that my belief kept me from going and I told her I intended to find a way to get there, even though my money was tight. At the right time for me, I got booked to speak in LA, which meant they'd fly me out here. I asked if my return flight could be a week later and they agreed. So I got to visit my friend in LA without a budget for it by changing my belief about why I couldn't come.
Be vigilant about what underlying belief you have about what you want, even if you think you're joking, like I thought I was when I said, "There are no good guys in NY." When there are legitimate circumstances that could prevent what you want from happening, such black clouds and the forecast of rain all day when you're having an outdoor party or knowing layoffs are coming where you work and you've only been there a short time or your car is making the same noise it did the last time your transmission went, and you can't afford that kind of expense—declare "I don't care how bad it looks. I will get what I need!"
I've had outdoor events where it rained everywhere but where I was. If your boss likes your work you may be spared during layoffs and the noise in your car could be a loose screw or something minor. I've had many miracles happen because I refused to buy into the obvious belief. The next time you want something, look for what your beliefs about it is and change them. That clears the path to manifesting.
See all the posts in my Law of Attraction in Action Series HERE.
**************
Join the Self-Love Movement™! Take the 31 Days of Self-Love Commitment and get my book, How Do I Love Me? Let Me Count the Ways for free at http://howdoiloveme.com. Read my 2013 31 Days of Self-Love Posts HERE. Join the Self-Love Movement™! on Facebook.
Please leave comments under my posts so we can stay connected.