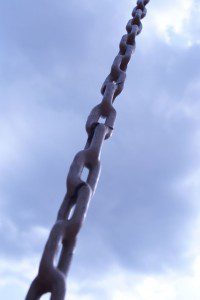 Some people interpret self-empowerment to mean being totally independent by taking care of yourself and your needs on your own—not relying on anyone; doing everything for yourself. When I first declared my independence from depending on people for my happiness, I also felt I needed to never depend on anyone to feel empowered. It left me stressed at times because trying to do it all is hard.
But I was very wrong. We need to have people supporting us. Sometimes that may just mean cheering you on or they may be helping you do something that's hard for you. It can also mean having help to gett your needs met. Part of healthy independence includes a healthy interdependence on people who care about you—where you help others and they help you. It's hard to do everything alone.
Healthy interdependence doesn't mean depending on people for everything. But it's okay—actually good to have people that you can depend on, and who know they can depend on you. The difference between interdependence and unhealthy dependence is you aren't worried about losing these people's help. Your happiness and well-being isn't dependent on them. You'll survive if they don't come through. When you're dependent on people in unhealthy ways you think of them as necessary for your happiness. So if one disappears it can hurt you. If they don't help when you need it you get disappointed, or worse.
When you've had that kind of dependence or been burned by someone you counted on, it can be hard to trust relying on anyone. But when you build faith in yourself and in a higher power, you'll be able to trust yourself to let go of control little by little to let someone help you. As I said in my post, Needing to Do Everything Yourself, I talk about how much pressure it puts on you to try to do it all. Creat a community of like-minded friends and let hem in. Create your own healthy interdependence and you'll enjoy knowing that you're supported.
***************
Join the Self-Love Movement™! Take the 31 Days of Self-Love Commitment and get my book, How Do I Love Me? Let Me Count the Ways for free at http://howdoiloveme.com. Read my 2013 31 Days of Self-Love Posts HERE. Join the Self-Love Movement™! on Facebook.
Please leave comments under my posts so we can stay connected.