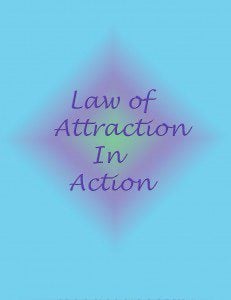 This is post 242 in my series on the Law of Attraction in Action. You CAN use your power to manifest your desires.. I do it every day! Read all the posts in my Law of Attraction in Action Series to see how.
In last week's post, Law of Attraction in Action: Closing Doors, I talked about how important it is to close doors on what you don't want before you go after what you desire. Of course you can't always do that completely. If you want a new job it might be hard to quit the old one first if you need the money. But you can close the door in your heart.
People have told me that they close the door on something and nothing opened. I asked if they looked and they don't understand what I mean. The door may not fling open in your face. It can open a subtle bit and you need to be able to recognize it. Sometimes you have to look for what comes to you in your experiences and be prepared to go through an open door. The Law of Attraction will send the door, it's up to you to go through.
For example, Bree, a freelance social media PR person, came to me complaining about one of her better paying clients. He drove her crazy, calling constantly, even on weekends and at night. She told him not to but he continued. She tried to tolerate him because of the money she got but after I heard, "I don't know if the aggravation is worth the money" for the umpteenth time, I advised her to close the door. She was scared as she liked having the income from him. Finally she closed the door when he pushed her too far. As I'd advised she said, "Close one door and another one opens." Out loud.
Two weeks later she complained that no door opened and she was getting frustrated. In the same breath she expressed annoyance at being asked to give a social media presentation for an organization for free. She called it a free open door and lamented it wouldn't pay any bills.
Helen Keller said, "When one door closes, another opens. But often we look so long, so regretfully, upon the closed door that we fail to see the one that has opened for us."
I told Bree to give the presentation and to see it s a door opening. She called after to say that she picked up three new clients who heard her speak and had others inquiring about hiring her. Closing that one door opened many new ones for her. Take advantage of whatever comes up after you close a door. One scenario can lead to an open door if you go through it. Bree almost missed her door because she was so focused on just getting a replacement client and saw a free talk as a waste of her time.
Someone might invite you to an event. Go! Or you may be compelled to do volunteer work and meet someone special there. Just make sure you recognize the new doors opening since they may not be what you expect. Look for the doors and you'll find them
See all the posts in my Law of Attraction in Action Series HERE.
***************
Join the Self-Love Movement™! Take the 31 Days of Self-Love Commitment and get my book, How Do I Love Me? Let Me Count the Ways for free at http://howdoiloveme.com. Read my 2013 31 Days of Self-Love Posts HERE. Join the Self-Love Movement™! on Facebook.
Please leave comments under my posts so we can stay connected.