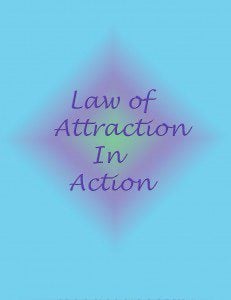 This is post 230 in my series on the Law of Attraction in Action. You CAN use your power to manifest your desires.. I do it every day! Read all the posts in my Law of Attraction in Action Series to see how.
I recently took a trip. The morning I was leaving was a nasty one. Besides rain, the news reported 50-mile an hour winds at the airports. I began to get nervous. I was renting a car in town near where I would be staying but they closed at 6PM. My flight was due to arrive at 2:45, which gave me plenty of time. But, "what if" I was delayed by hours and I got in too late to get my car? I needed it that night. The "what ifs" came fast and furiously.
I got myself worked up with worry. So much could go wrong in the rain. Fortunately, I caught myself and realized that I was telling the Universe that I expected problems with my trip. My worrying indicated that I didn't have faith that my flight would be on time. I realized that if I didn't change my thoughts and negative emotions fast I'd have problems during my trip.
So I stopped, took some deep breaths and released my trip going smoothly into God's hands. Because my faith is so strong I was able to relax right away, knowing everything would go well. I asked for the best possible trip. Why not? If I'm going to manifest, why not no it well? From then on I felt at peace in expecting everything to go super-well. Putting your situation or what you need into your higher power's hands, and trusting can bring stellar results.
When I had to go out to get a cab, I hated the idea of using my umbrella because I didn't want a wet one on the plane. Someone in the lobby offered me his so I could run to the corner. Trying to get a cab in NYC at 9:30AM in the rain is usually tough. But as I go to the corner, one pulled up immediately and let me ride back to my apartment to get my things. I looked up and said "Thanks!" Miraculously, there was NO traffic on the way to the airport—on a rainy morning at the tail end of rush hour! Once again I looked up and said "Thanks!"
When I checked my bag the guy said, "You're lucky, your flight is on time." Once again I looked up and said "Thanks!" Before boarding they kept asking for volunteers to give up their seats as they were overbooked. And as we boarded, they also said people with large carry-on bags had to check them as there wasn't much room left in the overhead compartments. My bag was large but I kept it and found room for one bag—right over my seat. And a guy immediately offered to put it up for me. Once again I looked up and said "Thanks!" And on this very overbooked flight, the seat next to me was empty. Once again I looked up and said "Thanks!"
What could have been a very bad experience, which I originally expected, turned into a series of miracles because I trusted completely that it would all go very well. Releasing my trip into God's hands assured me that it would go well. As each miracle unfolded, I got more excited and expected more. We often let our expectations based on current circumstances cloud our positive vibration. But you can get past that by releasing whatever it is you need into your higher power's hands.
The more you see it work, the stronger your trust will be, and the less you'll allow yourself to conjure up negative "What ifs." This  will also help you to build and keep a vibration and expectation that's strong enough to attract what you want.
See all the posts in my Law of Attraction in Action Series HERE.
***************
Join the Self-Love Movement™! Take the 31 Days of Self-Love Commitment and get my book, How Do I Love Me? Let Me Count the Ways for free at http://howdoiloveme.com. Read my 2013 31 Days of Self-Love Posts HERE. Join the Self-Love Movement™! on Facebook.
Please leave comments under my posts so we can stay connected.